January 2023 - The new year will bring forth resolutions around your career path and drive for success, dear Aries, because four celestial bodies are moving through Capricorn and the sector of your chart that governs professional ambitions. However, with Mercury traveling backward through the skies, it might not hurt to look to past successes in order to formulate a plan for how to move forward.

Meanwhile, Venus enters Aquarius on January 2, making it a great time to share ideas, call in favors, and lean in to your network of occupational support.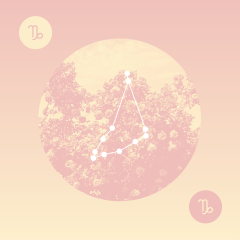 January Premium HoroscopeWe are not going to lie, the month ahead comes with its fair share of intense aspects! January is a month that will keep you on your toes.

The Cancer full moon on the sixth peels back the layers to reveal your softer side as the stars encourage you to nurture your nearest and dearest. Filling your space with the scent of home-cooked food and the sound of laughter will be particularly fulfilling as the energy at play brings out the homebody within. This cosmic climate also accentuates the importance of maintaining a healthy work/life balance, so don't hold back if you feel like planning your next vacation or indulging in a little staycation.

You can breathe a sigh of relief when Mars ends its retrograde reign of terror on January 12, helping to defuse any work-related, organizational, or social tension that accumulated in the past several weeks.

You'll feel inspired to expand your circle beginning when the sun joins Venus and Saturn in the sign of the Water Bearer on the twentieth. Issues plaguing your community will suddenly hit closer to home, which could inspire you to become more politically involved in your neighborhood.

Standout days: 9, 12, 24
Challenging days: 2, 11, 26
Get to your authentic self with the guidance of a psychic advisor. Click here to get the 1st 3 minutes of your reading free!
More Horoscopes for Aries