Love Compatibility
Find out if your partnership will go all the way. Some Sun Signs naturally work well together, but others need to compromise to make it work!
Aries
Capricorn
6/10
This is an odd couple that might work if both learn to put their egos aside. Temperamentally and emotionally they are not well-suited, as their constant drive for success can become draining. Still, while it's rocky in the beginning, this pairing can last in the long-term as their larger-than-life personas give them a power couple vibe. Capricorn's strength and endurance will gain Aries' respect while Capricorn is drawn in by Aries' boldness. 

This couple can work because both bring something that the other is lacking. Aries is electrifying and passionate, which can light a fire in conservative Capricorn. This can teach them how to live on the wild side and let loose. On the other hand, Capricorn is responsible, protective, and loyal—providing Aries a safe space. Aries secretly craves structure and certainty from a partner that Capricorn can easily provide. They bring a good balance of fun and stability that can make a partnership last.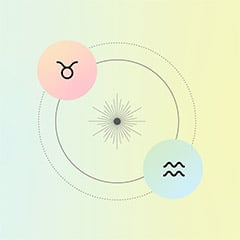 Love CompatibilityZodiac love compatibility is complex...
Find out whether you and your partner are a perfect match!

In the beginning, the sexual chemistry between the domineering signs can be pretty rough, as both have different tastes in bed. Both are freaks in the sheets but Aries is more innovative and experimental. Yet, Capricorn is pretty conservative and isn't eager to try new things unless Aries really pushes them. Both feel the need to dominate, which can make sex either very rough or very confusing. However, Aries and Capricorn do get along wells as lovers. Aries' responsiveness and passion finds pleasure in Capricorn deep sensuality. If they can figure out how to switch taking control in the bedroom, their sex life can be deeply satisfying. 

Aries and Capricorn, emotionally and temperamentally, are not compatible. Aries is restless and impulsive while Capricorn is more orderly and practical. Neither understands the other. They share traits of stubbornness and aggression, which isn't a good thing to have in common—especially when they get into fights over absolutely everything! They fight to gain control of the relationship—a battle that ends in an unhappy stalemate. Ultimately, the pair just need two different things from a relationship to be happy. Aries needs freedom while Capricorn needs consistency and commitment. Aries mocks Capricorn for their inability to act but Capricorn chides Aries for being too impulsive. Capricorn becomes jealous when Aries strays to more fun-loving company. Neither knows how to bend to make the other happy.  

This couple has a real change to last the long haul because both signs hate to admit defeat. However, the key to a lasting relationship isn't spite. It's compromise. Both signs need to learn to take a back seat in order to let the other sign feel like they are in the driver's seat. In a serious partnership or marriage, it's good to make sure each person has responsibility and feels "in charge of something." For example: Capricorn is in charge of the budget while Aries is in charge of deciding the vacation, and so on. Together, their drive and ambition could make them a real power couple.
What does today's card pull mean for you? Get a personalized interpretation. Click here to get your first reading for just $1.99.