Love Compatibility
Find out if your partnership will go all the way. Some Sun Signs naturally work well together, but others need to compromise to make it work!
Aries
Scorpio
5/10
When two Mars-ruled signs get together, you can count on three things: passion, explosive tempers, and sex—A LOT of sex. When fiery Aries meets the complex Scorpio, it's like fire meeting gasoline. The initial attraction is strong with the heat and intensity of their sexual chemistry. However, they'll quickly realize their temperamental differences. These strong-willed signs must be in control of everything, including their partner. Ruled by the warrior planet, their fighting styles differ. Aries is combative and argumentative while Scorpio is scheming and vindictive. While both love a good argument, they tend to take things a bit too far. 

Other than the great sexual chemistry, these signs love to play cat-and-mouse with each other. Aries enjoys the thrill of the chase and mysterious Scorpio can keep them on their toes and coming back for more. Scorpio is a mystery but Aries longs to figure it out. Meanwhile, obsessive Scorpio is trying to find out everything about Aries: looking them up on social media, asking friends, the works. They'll never get bored as they try to untangle each other's mysteries.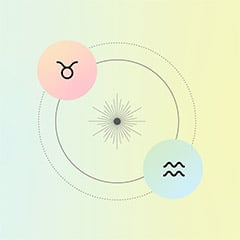 Love CompatibilityZodiac love compatibility is complex...
Find out whether you and your partner are a perfect match!

This is, arguably, this couple's biggest strength. Their sexual chemistry is through the roof. Both signs are physical, energetic, and passionate, making them a perfect match when it comes to lovemaking. Aries is an imaginative lover who enjoys experimenting in the bedroom. And this meshes perfectly with Scorpio's magnetic seduction. It's almost as if the Scorpion has cast a spell over the Ram, willing them into bed. Both ruled by passionate Mars, the sex here is hot, intense, and almost like a battle of wills as the two lovers fight to be on top. Even if the relationship is a disaster, this couple will stay together because the sex is so mind-blowing. 

Outside the bedroom, the couple falls apart. Both signs are control freaks and will try to dominate the other by using their own personal method of force. Aries uses aggression and Scorpio uses passive-aggression. Aries won't take orders and Scorpio never backs down—so, the two go nowhere. Aries is freedom-loving, outgoing, and flirtatious, which causes problems with possessive and jealous Scorpio. Obsessive, Scorpio may try to follow Aries on their many activities in secret just to see what the Ram is really up to. Open and impulsive, Aries gets frustrated with Scorpio's secretive and brooding nature. Eventually, Scorpio's jealousy becomes too much for Aries and they'll leave—but keep coming back for the sex. 

Advice: This duo seriously needs to work on their communication skills and try to compromise. Scorpio has to tell Aries how they feel instead of making them guess what one of the many emotions they're feeling today. Aries needs to give Scorpio more reassurance that they won't betray them. If they can keep their hot tempers under control, it could be an interesting relationship. 
Get a FREE, 3 minute Astrologer chat. Connect now.