Love Compatibility
Find out if your partnership will go all the way. Some Sun Signs naturally work well together, but others need to compromise to make it work!
Aries
Gemini
8/10
This pairing is on a continuous quest to find adventure and excitement. When Aries and Gemini match up, it's a meeting of the minds, as they never runs out of things to say.  Lively and energetic, it's never a dull moment as they move from one new activity to another. Eternal wanderers, they'll travel the world together as long as they can keep their emotional connection alive. 

This couple is strong because Aries and Gemini are sextile (two signs apart) creating an easy, breezy relationship. They understand each other on an unspoken level (though they both love to talk). Both are restless spirits, eager to try new things. Aries can say, "Do you want to go skydiving?" and Gemini would respond with, "I'll get my coat." Both are high energy and keep a rapid mental pace so they don't feel they have to "dumb themselves down" for their partner. Intellectually well suited, Aries is dynamic and pioneering while Gemini is clever and adaptable. Variety is the spice of life as they are constantly on-the-go—from traveling the globe to ax-throwing in the backyard. The pairing also compliments each other nicely. Aries' dominant nature can give Gemini the direction it needs while Gemini's sharp wit keeps Aries on their toes. These two rarely get bored with each other.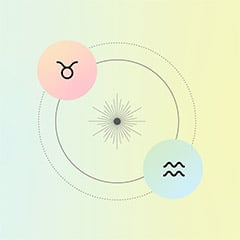 Love CompatibilityZodiac love compatibility is complex...
Find out whether you and your partner are a perfect match!

Aries and Gemini's mutual lust for adventure and spontaneity comes to play in the bedroom as well. They are highly enthusiastic lovers.  They have zero inhibitions when it comes to sex and will try anything once, so the possibilities are endless. Aries enjoys taking the lead in bed, which suits the adaptable Gemini. Gemini is always trying to come up with new ways to keep Aries interested in bed. Neither sign is very sensual or romantic, so sex can be very causal with little passion. However, what they lack in sensuality, they make up for it in mental foreplay as they try to seduce each other into bed.

While this pair checks all the boxes of compatibility, they do have a few issues that could dampen their whirlwind romance. While they are interested in each other physically and mentally, creating an emotional bond can be tricky as neither wish to be "serious." Aries is more passionate than detached Gemini and can easily become hurt if Gemini doesn't give the same amount of devotion. Aries likes to be cared for, but Gemini isn't a caretaker, and this could lead to issues down the line—especially if one wants to settle down and the other does not.

While they are very compatible, it's hard for each sign to take the relationship seriously. The chemistry between them is easily formed but keeping the spark alive will take some work. Saying "I love you," being romantic, and "adulting" alongside each other can cement this couple together. If both signs are mature, they can settle down without becoming boring. Learning each other's love language is key to staying connected and avoiding hurt feelings. 
Speak to a live horoscope expert. Find clarity, connection, and a path forward. Click here and get your first reading for just $1.99!