Love Compatibility
Find out if your partnership will go all the way. Some Sun Signs naturally work well together, but others need to compromise to make it work!
Aries
Taurus
4/10
The Bull and the Ram are a hot-and-heavy couple from the start as each sign is sensual and passionate, which creates fireworks in bed. However, there isn't much going for the pairing. The fiery temper of Aries clashes with the stubborn patience of Taurus, making fights a standoff. Aries seeks change while Taurus craves routine. Being one sign apart, they couldn't be more different in terms of temperament and life views.

Despite their glaring differences, the start of an Aries/Taurus paring is a beautiful thing: gushing compliments, gifts, vibrant conversation, and utter devotion. As ambitious people, Taurus can help keep Aries steady and grounded while Aries can push the Bull to dream bigger. Aries boldly seeks adventure and Taurus gives them a solid plan on how to get there—and a beautiful home to come back to. Aries can make money and Taurus can make the budget. Aries brings the enthusiasm needed to keep the romance alive and Taurus brings the stability to keep the relationship going. Taurus is the rock to Aries' roll.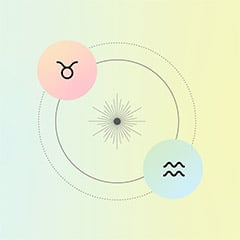 Love CompatibilityZodiac love compatibility is complex...
Find out whether you and your partner are a perfect match!

But where does the dynamic of Aries and Taurus shine best? The bedroom. Highly sensual and passionate, they are both interested in lovemaking. The fiery nature of Aries can light up Taurus, while Taurus can provide a physical presence that gives Aries exactly the kind of pleasure they need. Aries is emotional in sex while Taurus is tender—making in a great combination of intense lovemaking.

Unfortunately, even in bed, they have a few compatibility issues. Impatient Aries can become annoyed by Taurus' slow pace in the bedroom. Aries wants to get to the main event now, while Taurus needs foreplay. Inventive Aries can also find the unimaginative lovemaking of Taurus a little boring. Taurus, on the other hand, does not like how pushy Aries is in bed and how selfish they are—considering home much attention Taurus also needs. Ultimately, sex between them can get old quickly.

This pairing struggles with compatibly on various levels. They are, simply, two different people. Aries is impulsive and always on the hunt for new experiences while Taurus is slow to make up their minds and hates change. Both traits annoy the other to the point of madness. Aries is independent and individualist. However, Taurus is possessive and will see Aries constant need for freedom as rejection, crying out, "Why don't you want to be with me?" This will cause Aries to feel as though they're being tied down and it will cause them to flee. Taurus wants a home and family while Aries wants to be free, and that will be the ultimate deal-breaker in this relationship.

The best thing this pairing can do is learn to compromise—a skill that doesn't come easily to either. Taurus learn to take risks and stray from routine while Aries need learn that settling down isn't give up their wanderlust. Aries and Taurus have a lot of valuable lessons to can teach each other—if they would only listen!  
What does today's card pull mean for you? Get a personalized interpretation. Click here to get your first reading for just $1.99.