Love Compatibility
Find out if your partnership will go all the way. Some Sun Signs naturally work well together, but others need to compromise to make it work!
Aries
Aquarius
8/10
Aries and Aquarius are BFFs with benefits. Their relationship is full of fun and sexy hijinks. This is an easy relationship because they understand each other on an emotional and intellectual level. Exciting and original, the pair complement each other well—whether it's traveling the world or coming up with conspiracy theories at 3 a.m. Both are highly opinionated. They love to debate and bring that tension into the bedroom— as long as the tension doesn't spark a love spat! 

Aries and Aquarius are two signs apart, meaning they form a sextile. This means they hold similar values, as well as the same temperament and personality. Both are active, ambitious, and enjoy a large range of interests. The two may have nothing in common in terms of hobbies and taste, but they love to talk about those hobbies to their partner when they come home. Both are fiercely independent, so they understand the need for freedom. Intellectually, they are evenly matched as Aries' innovation and Aquarius' originality create the dream team of new ideas. Aries can push the aloof Aquarius to live more passionately while Aquarius teaches Aries not to take life so seriously. They are both best friends and lovers.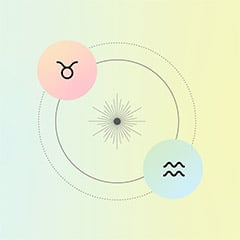 Love CompatibilityZodiac love compatibility is complex...
Find out whether you and your partner are a perfect match!

Aries and Aquarius share electric sexual chemistry in lovemaking. They just click. When they put their innovative and creative minds together, they can come up with some pretty kinky stuff. Aries finds the unpredictability that Aquarius brings in the bedroom exciting; they never know what the Water-Bearer will do next. Aries' passion in the bedroom inspires Aquarius' originality and goes well with Aries' forcefulness. Both like to take the lead when it comes to sex, but Aquarius will often let Aries be the dominant one. 

While the pair is harmonious, Aries and Aquarius do have nasty tempers that can explode at any moment. Fun teasing can quickly turn mean thanks to Aries' harsh words and Aquarius' sarcastic nature. Aquarius is more independent than Aries, so the Ram can feel neglected when Aquarius hangs out with their friends for days—or weeks—at a time. Speaking of Aquarius' friends, this is another sore issue for the couple. Aquarius longs for a "found" family, while Aries is only looking out for number one. Aquarius is very open while Aries is very private. This can lead to a clash when Aquarius shares information about their love life to their friends or social media followers. 

If they want to keep their relationship light and fun, this couple needs to watch their words to one another. Instead of rushing to attack when they feel slighted, they should talk through their emotions and get to the heart of the issue. Once this pair understands each other emotionally, and can keep their sharp tongues in check, it's smooth sailing.
Speak to a live horoscope expert. Find clarity, connection, and a path forward. Click here and get your first reading for just $1.99!