Love Compatibility
Find out if your partnership will go all the way. Some Sun Signs naturally work well together, but others need to compromise to make it work!
Aries
Aries
5/10
This is an explosive romance that can easily go down in flames. Dynamic and fierce, these two Rams spark desire and create an inferno of passion in the bedroom. However, they are also short-tempered, competitive, and argumentative. Their "friendly" debates will quickly become volatile and toxic, as both will fight to the bitter end to get their way. This is a challenging relationship, but never a dull one.

One of the positive aspects of an Aries/Aries relationship is that they both understand each other well. Both share the same sense of loyalty, devotion, and a constant drive to be the very best. They are very independent so they can do their own thing without their partner getting jealous. Aries natives have large personalities which is part of their attraction to each other. If they are able to put their competitive nature aside, they can help each other achieve their dreams with their go-getting natures. Being quite courageous, there's no challenge these two can't overcome—even their lack of compatibility.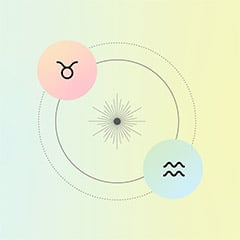 Love CompatibilityZodiac love compatibility is complex...
Find out whether you and your partner are a perfect match!

Both are ruled by Mars, the planet of sex and aggression. Thus, sex between them is very raw, physical, and a little rough. As a pioneering couple, they can get pretty creative—coming up with new sex positions or kinks, and love pushing each other's sexual boundaries. Fights can easily be worked on the bedroom—in fact, they probably use fighting as foreplay. The only issue here is that both Rams can be pretty selfish and may only focus on their pleasure instead of the pleasure of their partner.

Because they are the same sign, their faults are magnified. This twin fire sign relationship can quickly become explosive as both have a short fuse and can blow up over minor disagreements. Controlling their bad tempers is something both Rams have to deal with in order to have a healthy relationship. Compromise is difficult for this couple because both are independent, stubborn, and can easily say, "Fine, I'll do it my way!" If they don't see each other as partners, the relationship can quickly take on a "my way or the highway" attitude—with both Aries hitting the highway. Because of their passionate nature, this devoted pair can become obsessive, never wanting to let the other go. Both are controlling and strong-willed, trying to dominate the other. This is possibly the only battle neither Aries will win.

It's important to keep the balance between obsession and total independence. Remembering to think of the relationship as a partnership is the key. If that's accomplished, there will be more willing compromises instead of fights. Engaging in outside hobbies can establish some freedom from the relationship. To prevent them from being competitive, it's best if these two have different careers.  
Speak to a live horoscope expert. Find clarity, connection, and a path forward. Click here and get your first reading for just $1.99!