February 2023 - This month, you can make a deal. There's a full moon in Leo on February 5, and Sagittarius, your legal-eagle eye can spot a good contract from a mile away, and you might have a good contract on your desk right now. It's possible this is to get a job, purchase equipment, or lease office space. With a little negotiation, you can make this agreement even better.

The sun conjoins Saturn in Aquarius on the sixteenth. Sagittarius, you might be overwhelmed by the number of communications you're getting these days. It isn't just the amount of texts and emails, but it's the number of different platforms you receive messages on. It takes half a day just to check everything. You haven't even responded to your DMs yet.

On February 19, there's a new moon in Pisces, and Sagittarius, after going back to the office for a little while, you could find yourself working at home again. And you might be celebrating at the same time. It's possible that your company got very rigid about employees returning to the office, but now it has capitulated. This can give you a flexible schedule again. This is going to make things a lot easier.
Want to deep dive into your astrological future? Chat with an astrologer today. Try it now. Click here and get 10 minutes for just $1.99.
More Horoscopes for Sagittarius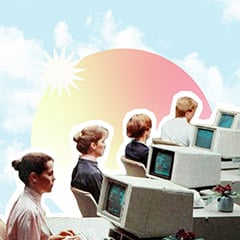 Personalized Career Horoscope