Love Compatibility
Find out if your partnership will go all the way. Some Sun Signs naturally work well together, but others need to compromise to make it work!
Sagittarius
Aquarius
8/10
A love relationship between a Sagittarius and an Aquarius is usually based on a solid foundation of friendship and mutual admiration. These two both have an expansive world view and can collaborate on a lot of different projects together. They have open minds and are willing to consider the other person's opinion—which is a great basis not only for friendship but for romance. There is generally a lot of mutual respect between these two, and although they don't always approach life the same way, they are interested in how the other person does things and thinks. There aren't a lot of rules between these two, as they generally let the other person live their life freely (without restrictions or jealousy). Space is everything for both of these signs! Sagittarius and Aquarius are great at coming up with new ideas, but Aquarius is a lot better on following through than Sagittarius. Aquarius is very future-minded, and this keeps them both on track. Sagittarius is ruled by the planet Jupiter, which promotes expansive thought, higher leaning, and abundance. Aquarius is co-ruled by rational Saturn and eccentric Uranus, the planet of experimentation and innovation. These two planetary influences are inspirational and limitless—giving this couple the perfect tools for building pretty much whatever they desire. Their imagination is the only true limit of what they accomplish when they put their heads together.

Sagittarius is a spontaneous fire sign. They chase excitement and the thrill of adventure. This sign can be hot-headed and temperamental, but only when strongly provoked. They prefer to channel their fire into their fun-filled adventures instead of arguing with their partners over things that, ultimately, don't matter in the long run. As an air sign, Aquarius is also fairly nonconfrontational and equally goes with the flow. Air signs are intellectual and have a variety of interests, which fits in well with the fiery Sagittarius adventurous lifestyle.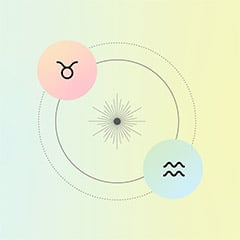 Love CompatibilityZodiac love compatibility is complex...
Find out whether you and your partner are a perfect match!

Sagittarius is a mutable sign, happy to roll with the waves and support their partner's big ideas instead of coming up with them on their own. As a fixed sign, Aquarius is slightly less easygoing and likes to keep things rolling along steadily. They are not always focused on making changes that will disrupt their comfortable daily routines. While Sagittarius is ready to move ahead, Aquarius might suggest they stay behind to make sure a project is fully completed. 

Romantically, they have a lot of things they love to do together (and sex is right up there at the top of the list). Because they're both into experimentation and role playing, there won't be many dull moments between them in bed. Since both of them are free flowing, it just enhances their bedroom adventures. They will also feel free to be who they truly are, which is a huge turn on.
What does today's card pull mean for you? Get a personalized interpretation. Click here to get your first reading for just $1.99.