Love Compatibility
Find out if your partnership will go all the way. Some Sun Signs naturally work well together, but others need to compromise to make it work!
Sagittarius
Aries
9/10
This is a match made in the heavenly bodies. Both kindred spirits, these two understand each other's need for excitement and adventure. Since they are both fire signs, they can stand the other's heat and temperament, while also understanding the need to roam. Without the fear of being tied down, the relationship feels very liberating to be in—as long as they don't lose their romantic spark. 

This couple has a lot going for them as they are eventually matched in terms of temperament and personality. Both are active, spontaneous, and honest. They'll never have to worry about what the other is thinking. Being social butterflies, they love hanging out with their own friends before coming back together to spend some time outdoors or just talk about their day. They are at the same level intellectually and have a wide range of interests that keep them talking for hours.  They also love to laugh and make each other laugh. Aries' enthusiasm and pioneering spirit mix perfectly with Sagittarius' optimism and creativity—elevating each other to new heights in life. Both value independence above all else, so they'll never get jealous or clingy.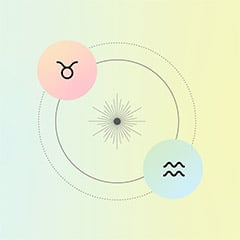 Love CompatibilityZodiac love compatibility is complex...
Find out whether you and your partner are a perfect match!

When two fire signs get it on, they move with a burning passion. Both have a similar, full-loving approach to lovemaking. Both are pleasure-seekers, looking for maximum enjoyment and leaving feelings out of it. Sagittarius is adventurous in the bedroom, lighting up the Ram who always loves a new challenge, while Sagittarius finds Aries' natural confidence as a lover very sexy. Both are quite physical, so there may be a lack of romance in the lovemaking. Aries can also be a little too forceful, which doesn't sit well with playful Sagittarius. 

Despite being a near-perfect match, Aries/Sagittarius do have some trouble areas they should keep an eye on. One of which is that they both have a pretty bad temper with a very short fuse. Both can lose their cool over a minor disagreement, which could lead to a raging screaming match if they aren't careful. Sagittarius can come off as preachy which can annoy the independent Aries. Aries takes things personally while Sagittarius is more detached so that can cause a few fights. 

Lastly, what can kill an Aries and Sagittarius love affair is the lack of romance. Both are very independent and are happy to do things their own way. However, if they are both off doing their own thing, when will they have time to be a couple? What happens when one wants to finally settle down and one wants to keep roaming? If these signs continue to think of themselves as I instead of we, that's not a relationship. 

To keep the spark alive in their relationship, these fire signs needs to make an effort to be romantic. They'll need to surprise one another with spontaneous romantic gestures: love notes, gifts, plane tickets, and special massages. If they both put the effort in, they can be very happy together.  
Get a FREE, 3 minute Astrologer chat. Connect now.