October 2021 - The month of October brings a lucky break. The new moon in Libra is on October 6, and there is an opportunity to make more money in your job. A position could be opening up with a higher salary and an additional perk or two. It's time to throw your hat in the ring, Sagittarius.

Mercury and Jupiter are direct as of the eighteenth. And over the next few days consider reaching out to colleagues who have moved on to other jobs. Do some professional networking. You might submit an article to a peer-reviewed periodical or start writing your own success book.

October 20 brings the full moon in Aries, and a risky investment might turn out to be far riskier than you expected. Be aware of the downside before you invest. Some investments can cost you everything you put in, but some leveraged investments can cost you much, much more.

Mars enters Scorpio on the thirtieth, and you may uncover some hidden talents. You might not have realized that you're actually quite good at calculating budgets, doing investment analysis, and handling money. This is your opportunity to explore this talent of yours in a meaningful way.
Revive your love. Make this the year your love grows with a psychic love reading.
More Horoscopes for Sagittarius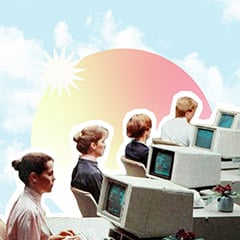 Personalized Career Horoscope