May 2023 - This month, you find an important key to success.

There is a lunar eclipse in Scorpio on May 5. Sagittarius, your business success hinges more on how you spend your time off than on what you do on the clock. Putting in the extra time catapults you ahead of the competition. Block out half an hour each day to work on your real goals. Even quiet meditation on how you can improve your cash-flow situation or the next great business idea can help you co-create with the Universe.

Mercury goes direct on the fourteenth, and Jupiter in Taurus squares Pluto in Aquarius three days later. Sagittarius, you might set out to improve something when you receive some surprising opposition. Don't let this dissuade you. As things begin to unfold, people see the value of your proposal. Perseverance is key right now.

On May 19, there's a new moon in Taurus. Sagittarius, you might have a shift of mindset, and suddenly your efficiency and productivity shoot through the roof. Perhaps you're using a productivity app. Or you hear a tip from a productivity expert, and now you can see yourself taking the lead. Soon you could win an award for your achievements.
Find out more about your horoscope. Speak to a live expert for a 1-on-1 analysis. Try it now — get a 10-minute chat for just $1.99!
More Horoscopes for Sagittarius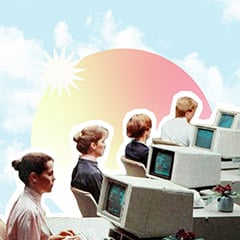 Personalized Career Horoscope