September 2022 - The month of September brings some good publicity.

Venus enters the sign of Virgo on September 4, and, Sagittarius, it's likely you are receiving some sort of recognition. It's possible that a customer has written a glowing review. Or someone you worked with in the past has recommended you through a professional business website. In general, your stock is rising.

There's a full moon in Pisces on the tenth. Also, Mercury is now retrograde in Libra. Over the next two weeks you have an opportunity to reintroduce your supervisor to the idea of you getting a salary increase. You might have been told a few months ago that it wasn't quite the right time. Now with Mercury retrograde, it's a good idea to bring this up again and see if you can get a firm date.

There's a new moon in Libra on September 25. Over the next two weeks you can help your career by doing some networking. You might join a professional organization or even a leads group. Now you're meeting new people and working on your public speaking skills (and speaking is one of your natural talents). You could make a great connection now.
Get intuitive advice to guide your personal journey.
More Horoscopes for Sagittarius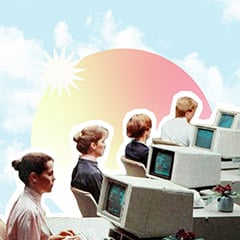 Personalized Career Horoscope