Sagittarius Life & Lifestyle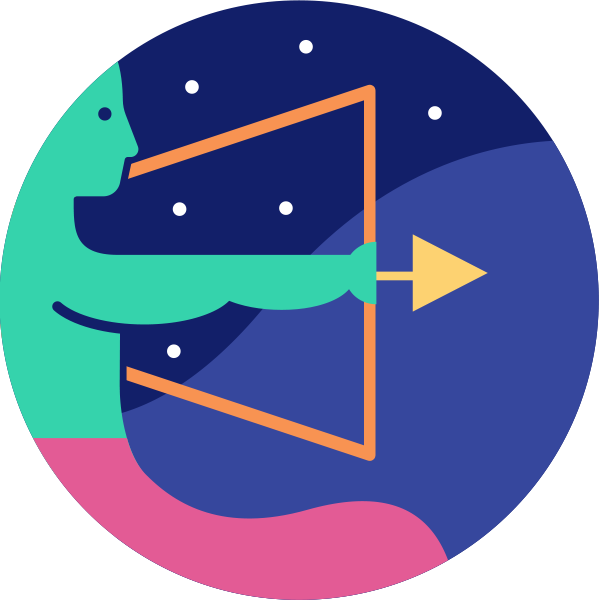 The Sagittarius Lifestyle
For the Sagittarius In Your Life
Best gifts: A passport holder, a backpack, or an Airbnb gift certificate. Saggitarius and travel are a cliche connection for a reason. Any gift to satisfy their wanderlust is sure to be a slam dunk.
Best spa package: Pedicure. An active Sagittarius is always on her feet, and appreciates a really good pedicure—maybe with some reflexology thrown in—and a pretty, polished shade of red. A pedicure is one indulgence a Sag will seek out anywhere in the world, and a reflexology treatment is what she needs to stay refreshed.
Best cocktail: Whiskey, straight up. A Sagittarius doesn't play around when it comes to cocktails. They don't enjoy sugary-sweet syrups, and like the bitterness a whiskey brings to the table. They like sipping, savoring, and keeping their wits about them.
What does your horoscope mean? Get a personalized interpretation. Click here and get your first reading for just $1.99!
How Sagittarius Unwinds
Sagittarius needs some solo time to reflect and connect to their deepest selves. This may be by going on a hike, heading to a yoga class, or just spending half an hour in the AM drinking tea and breathing deeply. Sagittarius needs the outdoors and nature, and being cooped up isn't good for their mindset. A happy, healthy Sagittarius is one who can take deep breaths outside, and who can feel the sun on her skin on the regular.
Sagittarius Social Life
Sagittarius has many friends from many parts of their lives, and prefers interacting with them one on one, or in small groups. When it comes to interactions, Sagittarius sometimes likes to play the "guest star" in different social groups. They may not go to a standing happy hour, but the invite is always open, and everyone is always happy to see them when they stop by. Sagittarius has a few very close friends from different areas of their lives, and tends to keep friendships forever. Sagittarius may not be the best at keeping in touch, but when you are able to reconnect with a Sag it is as if no time has passed.
Sagittarius Favorite Season
Sagittarius lives for slightly chilly cold late spring evenings; the times when dusk falls past nine PM and they can spend all day outdoors. Even though Sags love creature comforts, they find themselves feeling most in tune to their deepest selves while outdoors, preferably sitting around a fire. A Sagittarius loves looking up at the stars, and finds magical moments in the sweatshirt weather of late spring and early summer.
The Best Vacations for Sagittarius
Sagittarius loves exploring all corners of the globe, and prefers to have an "authentic" experience. They may turn up their noses at an all-inclusive resort, preferring to stay in an apartment or rental house to get a real feel of the culture of the area. A Sagittarius hates itineraries and prefers walking and feeling their way around a city. A Sagittarius has great intuition abroad, and loves the time and space to truly explore a city on their own time and terms.
Sagittarius Power Colors
Intuitive, idealistic, honest, and accepting of all different cultures and belief systems, Sagittarius presents a calm, cool, collected demeanor, with a fiery intensity underneath. The best colors speak to both the Sagittarius stoicism as well as the passion that comes from the fire that influences this sign. To that point, here are the best colors for Sagittarius.
Light blue: Like the oceans Sagittarius wants to explore, a light blue is deceptive: Calm on the surface, it hides many mysteries just underneath—just like Sagittarius!
Purple: Sagittarius loves standing out in a crowd, and this royal-inspired color is a great way for them to be noticed.
Red: A fire sign, Sagittarius can't resist red. Orange is great, too — notice-me colors that pack a punch and make a statement without a Sag saying a word.
Black: Depressing for some, but not for optimistic Sags, who tend to use black as an anchor shade, allowing their personality to shine.
The colors that Sagittarius should avoid are:
Green: This earth tone is so mutable and makes Sagittarius fade into the background. Sagittarius is more drawn to watery or fiery shades.
Gray: For Sags, it's all black and white. Gray belies the inner beliefs of Sagittarius, who truly think there is a right and a wrong answer to everything.
White: This color feels too pure for gritty Sags, who like getting down and dirty. It's not as though Sags aren't "pure,"—it's just that white feels far too clean and elevated to fit into the realistic worldview of a Sagittarius.