September 2022 - The month of September brings vital information.

Venus enters the sign of Virgo on September 4, and, Cancer, a coworker might communicate some very important information about your company. They could tell you about a future merger, good earnings report or change in management. This information can be quite useful as you make career decisions in the near future.

There's a full moon in Pisces on the tenth. Also, Mercury is now retrograde in Libra. Over the next two weeks you might not be at work as much. There are people at home who need your attention (this could involve kids going back to school or changing residences). You might work at home for a couple of weeks, or you might be taking a short leave so you have the time to focus on what's going on at home.

There's a new moon in Libra on September 25. Over the next couple of weeks you could be focused on a business that you can do at home. A family member might want you to partner with them. Perhaps they have sales skills and you have computer skills. Or they understand how to put up an online store and you know how to package goods for shipping. Together, you could be an unstoppable team.
Get intuitive advice to guide your personal journey.
More Horoscopes for Cancer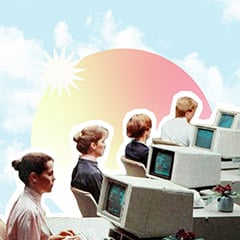 Personalized Career Horoscope