Love Compatibility
Find out if your partnership will go all the way. Some Sun Signs naturally work well together, but others need to compromise to make it work!
Sagittarius
Taurus
5/10
It's lust at first sight when Taurus meets Sagittarius. Sparks fly as they are drawn to the other's physical quality. Watch out, though. When the loving is over, this pairing will realize just how little they have common—personality and temperament wise. Sagittarius wants to backpack through South America on a whim. Taurus wants to save money and go to a luxury resort. Sagittarius thinks philosophically, while Taurus ponders in reality.

Despite their many differences, this could a very happy union of earth and fire as they strengthen one another. While Sagittarius always has a case of wanderlust, they would like a nice home to return to after their adventure is over. That is something homebody Taurus can happily provide. While Taurus is hardworking, they can be a little lazy. Ambitious Sagittarius can encourage Taurus to take risks. Sagittarius is the dreamer, while Taurus can fund that dream—and be a part of it. Taurus can also teach Sagittarius a needed lesson in patience. This is also a couple that loves to laugh and can leave each other in stitches. Both enjoy learning and would take a class or read books together to stay connected.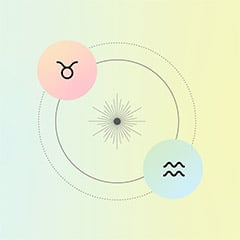 Love CompatibilityZodiac love compatibility is complex...
Find out whether you and your partner are a perfect match!

Their instant attraction is purely physical. Taurus is turned on by Sagittarius' inhibitions in lovemaking (they will try ANYTHING). Sagittarius is aroused by Taurus' sensuality and passionate nature in the bedroom. Taurus is a slow and tender lover while Sagittarius has a lot of stamina—so they can go all night long if they wish. However, after the first few hookups, Sagittarius might get bored with Taurus' routine and split.  

There are many issues that can plague a Taurus/Sagittarius relationship. If the pair hooked up when they first met, Sagittarius might view it as a one-night stand while Taurus thinks they are now dating. Awkward! Taurus is a very devoted monogamist when it comes to relationships, while Sagittarius is more casual. Trust is an issue here. Sagittarius can be easily bored by Taurus' stability while Taurus is annoyed by the Archer's recklessness and over-confidence. Money is also an issue, as Taurus would rather save money and invest in things for the future while Sagittarius spends their money in a heartbeat.

Taurus needs to trust that no matter what new adventure is out there, Sagittarius will eventually come home to them. The tighter Taurus tries to hold on to Sagittarius, the more this sign will pull away. Sagittarius needs to provide Taurus with some security in order to prove they are deserving of that trust. Taurus craves stability above all else, so Sagittarius needs to compromise by putting down roots. Sagittarius also needs to take Taurus' solid advice—even if it isn't what they want to hear. If they can do that, this couple has a shot.
Get a FREE, 3 minute Astrologer chat. Connect now.