December 2022 - The month of December brings a leadership opportunity. The full moon in Gemini conjoins Mars on December 7. Gemini, you might be put in charge of a team at work. Now you're up on stage and leading your team to victory. Get ready for the applause.

Jupiter enters the sign of Aries on the twentieth, and Gemini, there might be an increase in your salary. You could hear about an opportunity to make a higher commission or take a leadership position. Or you might get additional company perks that help you save money. In fact, you show the possibility of consistent increases in revenue between now and mid-May 2023.

There is a new moon in Capricorn on December 23. Gemini, you have an opportunity to get the funding you've been looking for. This might be for a business or a large purchase. Don't leave this to chance. Be very active about getting what you want.

Mercury goes retrograde in Capricorn on the twenty-ninth, and now things slow down to a snail's pace. This could mean delays in money reaching your account or getting the last piece of paper signed. You might have to make several phone calls to move things along.
Get to your authentic self with the guidance of a psychic advisor. Click here to get the 1st 3 minutes of your reading free!
More Horoscopes for Gemini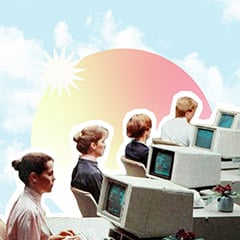 Personalized Career Horoscope