February 2023 - This month, you're ready for excitement and adventure. There's a full moon in Leo on February 5, and Aries, you might feel like you want to take a risk. And it isn't unlike you to boldly move forward. But you are very practical by nature, so your career adventures are very calculated steps forward. However, when you get an offer from a startup company or a job outside your comfort zone, you might be ready to jump on it.

The sun conjoins Saturn in Aquarius on the sixteenth. Aries, results come from hard work, and right now the hard work is networking. It's important to make valuable connections with people in your industry. This could mean you have to pay dues to a professional organization (at least it's tax deductible).

On February 19, there's a new moon in Pisces, and Aries, now it's time to make plans. You might want to get a large whiteboard and write out what you're going to do and when you're going to do it, or you could combine your online calendar with a workflow management system to complete your projects more quickly. You're already fast, but now you're becoming much more efficient.
Get to your authentic self with the guidance of a psychic advisor. Click here to get the 1st 3 minutes of your reading free!
More Horoscopes for Aries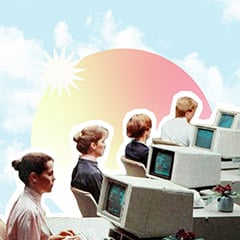 Personalized Career Horoscope