September 2022 - The month of September brings connections to some important and influential people.

Venus enters the sign of Virgo on September 4, and, Aries, you could make a great connection with a coworker. This person seems to have an in with the boss. They also understand the company computer system or are a whiz at spreadsheets. This person can open a door for you.

There's a full moon in Pisces on the tenth. Also, Mercury is now retrograde in Libra. In the next two weeks, an individual might bring you an opportunity you have seen before. This is all hush-hush because maybe the job hasn't been officially posted yet. But you can get ready by updating your resume and visualizing what it is that you really want.

There's a new moon in Libra on September 25, and for the next couple of weeks you have an opportunity to connect with someone of some consequence. This individual might be an influencer in your field or willing to mentor you along a career path. You could find a friend who will be an accountability partner to keep you on track while you're working on the back end of your business.
Get intuitive advice to guide your personal journey.
More Horoscopes for Aries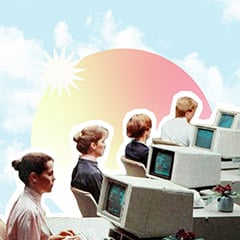 Personalized Career Horoscope