June 2023 - This month, you're encouraged to show your expertise.

There is a full moon in Sagittarius on June 3. Aries, a career opportunity hinges on you mastering a skill. This is something you can do in less time than you expect. You just need to make time for this priority in your schedule. And it's a good idea to grab a friend or family member to test you on your proficiency.

On the seventeenth, Saturn in Pisces goes retrograde, and there is a new moon in Gemini. Aries, this is a good time to begin some serious soul-searching. You might not be happy with the direction your industry is taking or what your company has been doing lately. This is a good time to consider whether you need to make a career change later this year. Lots of opportunities will open up, and the first step is to decide if you should move at all.

Mars in Leo squares Uranus in Taurus on June 26. Aries, your career gets a boost when you publish something. You might be putting out a book, podcast, or some very pithy posts. Other people are seeing your work, and your name recognition is rising.
Find out more about your sun sign. Speak to an astrologer for a 1-on-1 analysis. Click now — get your first reading for just $1.99!
More Horoscopes for Aries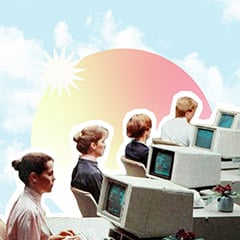 Personalized Career Horoscope