March 2023 - This month, your hard work pays off in money. The full moon in Virgo is on March 7, and Saturn enters Pisces at the same time. Aquarius, there might be a new program at work that gives you some perks. This could be a new insurance plan or new benefits for employees. Or you might want to go into your company's employee portal and make sure that you're maximizing the available opportunities, especially ones around purchasing company stock at a discount.

On the twentieth, the sun enters Aries, and there's a new moon in Aries the next day. Aquarius, you might be thinking about your commute and transportation in general. It's possible you're negotiating to work more days from home so you don't have to commute. Or you might talk to your boss about getting a company car.

Mars trines Saturn on March 30. Aquarius, you have so many talents that sometimes you feel like your abilities are wasted by your limited job. But you could use some of these talents in a side business. Someone might come to you and suggest an opportunity, and you might want to stop and listen to this person. It could be a good idea.
Find out more about your sun sign. Speak to an astrologer for a 1-on-1 analysis. Click now — get your first reading for just $1.99!
More Horoscopes for Aquarius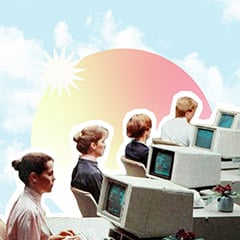 Personalized Career Horoscope