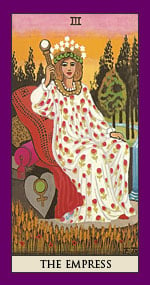 The Empress
Keywords: ideas, creative impulses, intellect!
Astrological Correspondence: Venus
The Empress signifies the queen of life, the ideal woman, the archetypal mother. She represents the matriarchal goddess, being part of nature, fertility, sexuality, and the generative forces. As the life-giving mother she is connected to the Earth and the natural rhythms, the appreciation of the senses. As a card of good fortune she signifies that if we are gentle and caring, as well as patient, we can bring anything to fruition; we have to be able to wait until the time is right for action so that we can reap the rewards; as a result, hard work pays off and relationships become satisfying. The Empress can, in negative situations, also depict vanity, undeveloped creativity, stagnation, and apathy.
Relationship going nowhere? Find out why with a Psychic Love Reading.
Pick another card: