January 2022 - Are you ready to make some financial changes, dear Archer? This month is going to bring some serious movement to your finances as a small army of celestial bodies makes its way through Capricorn, lighting a fire in your solar second house.

This is the time to get serious about your financial goals in the new year, especially during the new moon on January 2. While you might not see huge results right away—Capricorn energy tends to move slowly—any smart decisions you make right now can have big payoffs down the line.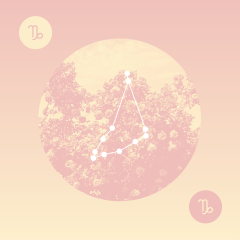 January Premium HoroscopeWe are not going to lie, the month ahead comes with its fair share of intense aspects! May is a month that will keep you on your toes.

With action planet Mars moving through your sign, your motivation and energy level will benefit from a nice, big boost. Just make sure you're still taking the time to rest, especially when Mars squares off with dreamy Neptune on the eleventh. You have a tendency to push yourself to the brink, and you will likely feel the side effects of that on this day.

The Cancer full moon on January 17 is a profound one for you because Lady Luna illuminates the sector of your chart that rules personal transformation. While the watery energy of this lunar event is likely to leave you feeling weighed down, you should consider it an opportunity for introspection and relaxation. To make the most of these vibes, write a list of any people, situations, or behaviors that you'd like to remove from your life. Once you're done, tear up the paper while saying, "I banish thee." Bury the scraps in your backyard, and take comfort in the fact that you're headed toward a new and improved version of your already fabulous self.

Standout days: 15, 25, 27
Challenging days: 5, 20, 30
Discover the transformational power within you and move on from heartbreak with a free psychic love reading!
More Horoscopes for Sagittarius