December 2022 - Roads will open for you this month, dear Sagittarius, as the sun, Venus and Mercury move through your sign. This cosmic climate will make you feel as though you're on top of the world, though issues could arise if you lose touch with your sense of balance. A fierce ambition and desire to make strides with your goals could cause you to neglect self-care routines, which will be more important than ever as Mars travels backward through Gemini. Remember to pace yourself and take plenty of breaks throughout each day, even when you feel as though you could move and shake for hours on end.

Good vibes will flow through your space beginning when Jupiter reenters Pisces and the sector of your chart that governs domestic bliss on December 20. This planetary placement is perfect for opening your home to others, especially when it comes to hosting family and friends for holiday festivities. This cosmic climate will also unleash an abundance of compassion in your heart, though you should be mindful to maintain healthy boundaries with anyone who has a history of letting you down.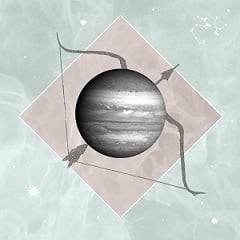 December Premium HoroscopeWe are not going to lie, the month ahead comes with its fair share of intense aspects! December is a month that will keep you on your toes.

Capricorn season and winter make their debut during the solstice on the twenty-first, putting you in a steady and grounded headspace. This astrological period encourages you to slow down, giving you permission to enjoy the fruits of your labor while reflecting on 2022. Take a moment to appreciate the journeys the year took you on during the new moon on December 23, while also allowing your mind to explore what the future has in store.

Standout days: 12, 20, 21
Challenging days: 3, 5, 9
Get to your authentic self with the guidance of a psychic advisor. Click here to get the 1st 3 minutes of your reading free!
More Horoscopes for Sagittarius