Love Compatibility
Find out if your partnership will go all the way. Some Sun Signs naturally work well together, but others need to compromise to make it work!
Cancer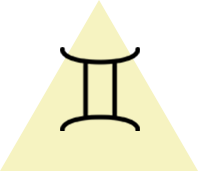 Gemini
The road looks rocky. Cancer hopes to found a stable, comfortable home for a family; Gemini has an appetite for change, danger, and travel. If he or she feels free to come and go, he or she will appreciate the Crab's profound and genuine feelings; in return he or she provides great cheerfulness. Gemini's sociability helps the Crab out of his shell. But the latter will always be the first to want to go home to bed. If Gemini can squeeze out a bit of stability, and if Cancer can repress his or her tantrums, they'll love each other the way Air mingles with Water.
Confused about your relationship? Get an Accurate Prediction today.