Love Compatibility
Find out if your partnership will go all the way. Some Sun Signs naturally work well together, but others need to compromise to make it work!
Cancer
Capricorn
9/10
Opposites do attract, and one would have to look no further than the coupling of Cancer and Capricorn to prove out this age-old idiom. When Cancer's cardinal water and Capricorn's cardinal earth come together, it's common to hear things like, "those two couldn't be more different" from an outsider's perspective. For the two people in the relationship, however, they understand their synergistic blend of elements, mutual understanding of each other's mode of operating, and their mutual attraction is what keeps them going, even if no one else can see it. It doesn't matter—they see each other, and they know that combined, they have not only instant chemistry, but long-lasting staying power. 

As the archetypal mother and father figures of the zodiac, Cancer and Capricorn respectively take their roles very seriously. They are both tradition-minded, and events like holidays, anniversaries, and other milestones will be hugely important factors in their relationship. In addition, both give and receive emotional and material security for the other, which are two tentpoles that they both prioritize, just in slightly different ways. As cardinal signs, they will have highly selective and discerning tastes, so they won't argue about issues related to quality. They will both agree it's paramount!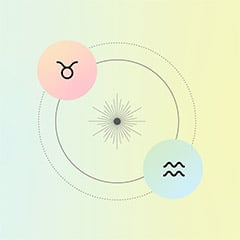 Love CompatibilityZodiac love compatibility is complex...
Find out whether you and your partner are a perfect match!

Capricorns provide the focus on securing material goods and Cancers create the emotional atmosphere where they can both come to enjoy it. That teaches Capricorn a much-needed lesson in relaxation! When these two treat each other with the mutual respect that two equals deserve, they are an undeniable force. This pairing is the primordial power couple, a perfect balance of opposites. The danger zone is when each sign falls too far forward in embodying the stereotypes of their aforementioned archetype. At any given time and by the very definition of the word: one person has to lead and the other person has to follow. That does not mean that one part of this couple is designated as leader every single time. 

When you combine two cardinal energies, what can easily manifest is two people who both want to lead at the same time, but from opposite dispositions. Cancer may want lead from the heart while Capricorn rules from the head. Whoever has the more dominant personal dynamism may end up overpowering the other person. This energy can easily start to feel too constrained and lead to resentment. While both the moon and Saturn can tolerate staying out of the spotlight at times, if they are never allowed full expression, they will eventually combust. And then all that sexual energy and heat that initially drew this couple together will fizzle into bitter feelings at best, and antipathy at the worst.

With any pair of diametric opposites, mutual respect will be tantamount to that relationship's success. Both parties have to give equal validation to the other's list of emotional and physical priorities, without making the other feel like their values and perspective are not as important. As long as Cancer and Capricorn can figure this out together, their meeting is the start of something wonderful. 
Speak to a live horoscope expert. Find clarity, connection, and a path forward. Click here and get your first reading for just $1.99!