Love Compatibility
Find out if your partnership will go all the way. Some Sun Signs naturally work well together, but others need to compromise to make it work!
Cancer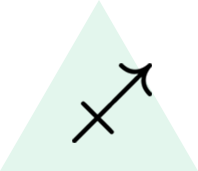 Sagittarius
Water and Fire, the recluse and the globe-trotter, the lecturer and the dreamer... They live in different worlds, but love is an interstellar vessel. Cancer enjoys listening to Sagittarius describe a journey, but will never be coaxed into donning a backpack and embarking on a real adventure. Moreover, the intellectual and physical preferences of a Sagittarius may make it difficult for him or her to strike a resonant chord in a Cancer. It's worth a try, but harmony will be hard to achieve.
Relationship going nowhere? Find out why with a Psychic Love Reading.