Love Compatibility
Find out if your partnership will go all the way. Some Sun Signs naturally work well together, but others need to compromise to make it work!
Cancer
Libra
6/10
Birds chirping, woodland creatures scampering in a choreographed symmetry, shopkeepers opening shutters to burst into song, and a team of fairy godmothers swishing and flicking their magic wands to bring two loveable people together at last. That's the romantic vibe of Cancer and Libra coming together—two sun signs absolutely, completely, and madly in love with love. It's their mutual desire to keep the initial spark of adoration, affection, and admiration thriving that will sustain this couple through any ups or downs they may experience.

With each other, they may have found the storybook love they've both been dreaming about since they were kids. And that's the good news for these two cardinal energies who may indeed face some friction in their union once reality sets in and the fantasy dies away. At the very least, they always have the baseline of knowing that they want peace and harmony in their romantic relationship.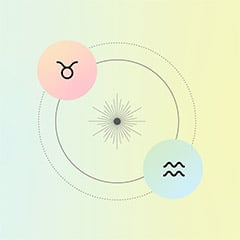 Love CompatibilityZodiac love compatibility is complex...
Find out whether you and your partner are a perfect match!

With the cardinal water of Cancer and the cardinal air of Libra, these are two dynamic energies—each with their perspective, way of doing things, and extravagant tastes. Whether they're choosing where to go out to eat or decorating a home together after quickly deciding to cohabitate, they will have to learn to appreciate the other's point of view. Luckily, because neither one likes to argue, Cancer will find a subtle yet deft way to gently guide indecisive Libra into making a decision that Cancer will love and Libra, ever the diplomat, will learn to like as well. And whatever lingering doubts Libra may experience will be quickly assuaged when they see that Cancer has an appetite for lux and lush items just like they do. 

When it comes to areas where they both can experience growth and maturity, it is that Cancer can be emotional and inward facing. This is where Libra invites them to see things from another, much needed vantage point—breaking them out of their insular shell. This also brings a cooling balance to Cancer's changing moods, serving as a relief to both if any latent tension starts bubbling up. As Cancer is prone to sensitivity, they can interpret even the slightest critique as harsh criticism and a personal attack. The moonchild will find that Libra's harmony-seeking disposition and balanced tone is just what their tough-on-the-outside, soft-on-the-inside makeup requires to feel confident that their partner is supportive of them. Libra is a willing and eager cheerleader for their partner, and Cancer will forever be grateful for their support.

In addition, Cancer and Libra both love people. While Cancer's network is a little more tightknit that Libra's, they both will value time spent socializing with others. Dates will include getting together for dinner and drinks or hosting elaborate at-home parties. This is a social and fun-loving couple, and because they meet in a zodiacal square, these sparks can quickly translate to a lot of heat and passion in the bedroom (which both appreciate). As long as these two can keep their communication open and honest, this partnership promises that long-sought after happy fairytale ending. 
What does today's card pull mean for you? Get a personalized interpretation. Click here to get your first reading for just $1.99.