Love Compatibility
Find out if your partnership will go all the way. Some Sun Signs naturally work well together, but others need to compromise to make it work!
Cancer
Aries
4/10
While they are fascinated with each other at the beginning, this couple has a rough road ahead. Aries and Cancer zodiac signs form a square (three signs apart), which creates a push-pull dynamic between them.  Power struggles and re-opening of old wounds are common in this turbulent relationship. However, if they can work together as a couple, they can take the world by storm and make their dreams come true. 

Despite being in a natural square, Aries and Cancer do understand each other. Both long to be taken care of. Both are devoted and moody (so they understand their needs to be adored and are unbothered by the constant mood swings). When they are alone together, they can let their guard down and feel. Aries, who spends most of their day fighting, sees Cancer as a comforting figure in their life. Meanwhile, Cancer is drawn to Aries' enthusiasm and passion for life.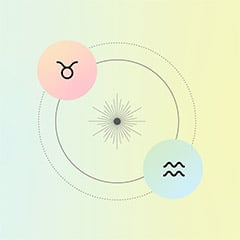 Love CompatibilityZodiac love compatibility is complex...
Find out whether you and your partner are a perfect match!

If this couple can work together as a team, they become quite the power couple as both enjoy building something—whether it's a home or an empire. Combine Aries' pioneering spirit and courage with Cancer's imagination and determination and you have an unstoppable force. 

Sexual attraction sparks this pair. Shy Cancer intrigues dominant Aries, who loves the thrill of the chase. Sex becomes a game of cat and mouse as Aries tries to seduce Cancer who keeps playing coy. Aries always wants something they cannot have, and Cancer won't give it up so easily. When they finally get it on, it's a perfect blend of physical and emotional sensuality as both signs are so passionate. Cancer loves to give while Aries loves to take. However, when the sex is over, more problems occur. Aries and Cancer view sex completely differently. Aries sees sex as physical pleasure (something that's just for fun) while Cancer sees sex as deeply emotional and an expression of love. Things can get real awkward real fast as feelings are hurt. 

Okay, so there's a lot going against this couple. Their temperaments, personalities, and desires in life are completely different and often clash with each other. Aries leaps into new opportunities without a second thought while Cancer is cautious. Cancer wants to have a home and a family while Aries cannot stand being tied down. Aries' sharp tongue hurts sensitive Cancer while Aries hates Cancer's nagging. While both are devoted, Cancer can be too clingy and overprotective, which will annoy the independent Aries. 

Aries can also be very selfish at times and try to use Cancer as a surrogate parent. It would not be uncommon for Aries to dump their emotional needs onto Cancer and make the Crab "baby" them by doing all the cooking, cleaning, and more. Selfless Cancer will do this until they grow restful. 

If Aries and Cancer are dead set on making it work, it's important to establish healthy boundaries with each other. Cancer shouldn't cling to Aries and Aries shouldn't use Cancer as another parent. They need to learn to work together without letting their emotions take corneal and ruin the relationship.  
Speak to a live horoscope expert. Find clarity, connection, and a path forward. Click here and get your first reading for just $1.99!