Love Compatibility
Find out if your partnership will go all the way. Some Sun Signs naturally work well together, but others need to compromise to make it work!
Cancer
Cancer
10/10
Is there ever too much of a good thing? That's the question for two Cancers in love. When two people's sun signs combine in a conjunction, it's a meeting of two like-minded souls. It will feel destined—like both people already know and understand each other even if they've only just met. 

For Cancer, a cardinal water sign that craves comfort and security, this recognition will be auspicious—one they easily attribute to fate. After meeting each other, they will likely rush home to tell all of their family and friends about their encounter with "the one." Plenty of time will be spent in their mind, scribbling the vows they'll one day inevitably exchange with each other, because that's how strong their connection will feel upon first meeting. They will be eternally grateful to each other, because all the initial awkwardness of the getting-to-know-you phase is instantly lessened by a union with a fellow Crab.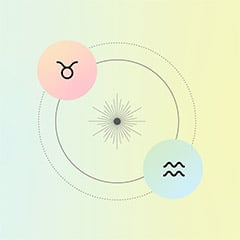 Love CompatibilityZodiac love compatibility is complex...
Find out whether you and your partner are a perfect match!

And life together, even in only in this current iteration, will be quite enjoyable for these two—especially in the beginning. There is an easy, "Saturday morning pancakes" vibe to two Cancers in a relationship—especially since that involves their favorite activities: food and domestic bliss. Home is their sanctuary and they'll both want to be together in a space that feels warm, relaxing, and safe. Cancers take the axiom that the way to a person's heart is through their stomach fairly literally. Therefore, two Cancers will feed their love through warm, homecooked meals and just-out-of-the-oven desserts. 

There will be a strong desire to caretake each other. But if left untended, this can lead to smothering. Cancers can subconsciously confuse worrying with nurturing and will begin to cross boundaries and each other's privacy. They would both do well to recognize that while their suns are touching in harmony, they can easily disappear into each other. They need to recognize that even as a couple, they are still two distinct individuals. Unless express permission is granted, other people's messages, emails, and social media accounts are not theirs for perusing. And because a Crab's nature is to walk sideways, neither will be direct about issues. For that very reason, both should avoid inadvertent mind games or unintended manipulations to get what they are after.

When it comes to the spark needed for sexual chemistry, two Cancers may find they are too comfortable. What once felt lively and thrilling (and even a bit risky), now may seem like sexual autopilot. After time, neither one has the drive or desire to push themselves out of their comfort zone. However, their baseline requirement for what is comfortable and familiar also means that even if they do break up, both will romanticize their past and place great emphasis on nostalgia for their better days. This can often mean that both Cancers are unable to firmly leave each other in the past. In a positive light, that kind of mutual desire for commitment could be the very thing these two romance-minded souls, who also love a little drama, need to see it all the way through.
Ready to talk to an expert? Get a FREE session with a professional Astrologer.