October 2021 - The month of October brings the right set of circumstances. The new moon in Libra is on October 6, and a friend could come to you with a potential investment opportunity. They might be starting a business or researching a new type of derivative investment. There is some risk involved, Gemini, so study it carefully before moving forward.

As of the eighteenth, Mercury and Jupiter are direct. Now is a good time to launch a creative endeavor. You might be doing a side business, such as opening an online shop or selling your extra stuff on someone else's website. This can bring you some extra cash.

October 20 brings the full moon in Aries, and a raise or bonus you were expecting could now be delayed. And while the circumstances may seem legitimate, it still doesn't feel fair. A meeting with the boss won't necessarily change anything, but it will give you an opportunity to vent.

Mars enters Scorpio on the thirtieth, and now you might feel quite motivated to streamline your processes to save time. This might mean doing Excel macros or using productivity apps to capture and organize data. You might get software that blocks distractions while you're working. All of this can help you succeed.
Revive your love. Make this the year your love grows with a psychic love reading.
More Horoscopes for Gemini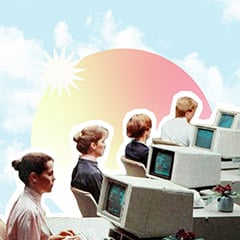 Personalized Career Horoscope