Love Compatibility
Find out if your partnership will go all the way. Some Sun Signs naturally work well together, but others need to compromise to make it work!
Gemini
Pisces
6/10
Mix together a quick-witted and clever Gemini with intuitive and sensitive Pisces, and you have two creative energies who are free-spirited, adaptable, and ready for a thrill ride. Both are seeking excitement in their lives, with Gemini longing to connect with open-minded people (like Pisces), while Pisces wants to get carried away by a fantastical romance. As a lover of words, Gemini is more than capable (and happy) to weave an illustrative tale that the eager Pisces will more than readily accept. But is this relationship more star-crossed than soul-aligned?

The biggest question is: How much of each other's fantasy world are they willing to live in? While both are naturally flexible to other people's needs and points of view, the square that forms between these two sun signs can lead to tension. While that's great for sexual chemistry (and these two will definitely have enviable levels of that), it's not always as desirable when it comes to determining whether or not this was made to last beyond a hot and fiery fling.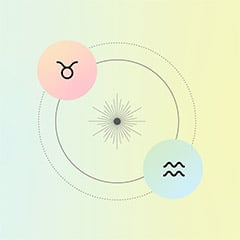 Love CompatibilityZodiac love compatibility is complex...
Find out whether you and your partner are a perfect match!

In an ironic twist, both may feel end up feeling like the other has unreliable and flaky tendencies. When Gemini changes their minds or opinions, Pisces can interpret that as disruptive and it can stir up feelings of instability and insecurity. While Pisces is indeed comfortable with a certain level of permeability, they do crave the emotional constancy and someone they can feel attuned to—and that does not play to Gemini's strengths.

Additionally, Pisces can be prone to a moody emotional disposition, fluctuating their mood as easily and readily as Gemini changes their minds. This can leave Gemini wondering if this dynamic actually works for them, as they can feel like they have to tread too carefully to ever fully be comfortable. Gemini speaks off the cuff, emphatically and quickly, and may not necessarily consider that Pisces' super sensitivity can easily translate to hurt feelings. 

Inevitably, if this dynamic continues to take prevalence and play itself out as the dominant theme, both might end up thinking the other wasn't listening or are being too vacillating. They'll wonder if they can actually make each other happy or if they, themselves, can be in this pairing. Both will be stricken with feelings of inertia. And for two people who crave flexibility and movement, this will not be comfortable.

Eventually, as with any square-based astrological match-up, these feelings of unease and discontent will lead to some kind of confrontation between the two, giving them each an opportunity to hash out their differences. If they keep their under-advertised penchant for theatrics out of the discussion, they can ultimately find that their different temperaments could provide them with space to grow and learn. However, it could also lead both Gemini and Pisces to decide if they cannot accept the other for whichever way they are in that particular moment, they'll have to settle on simply enjoying the fun and fireworks of their union without long-term expectations.
Speak to a live horoscope expert. Find clarity, connection, and a path forward. Click here and get your first reading for just $1.99!