Love Compatibility
Find out if your partnership will go all the way. Some Sun Signs naturally work well together, but others need to compromise to make it work!
Gemini
Cancer
3/10
At first glance, this air and water pairing seems like a great match. Being both dynamic and sensitive, they have many layers to them. Gemini has many personalities for Cancer's many moods, so it's rare they'll ever get bored with one another. However, the oddball couple can lose its quirky passion over time, especially when they realize that they have very little in common on a deeper level. Hurt feelings, jealousy, and different desires in life can fray this couple to the breaking point. 

As mentioned before, this couple starts out well, with a shared interest in artsy things and socializing with their many friends. Dates can include museums, theme parks, and live theatre.  Gemini has many hobbies that they can do with artistic Cancer. Gemini's cheerfulness and wit can brighten up Cancer's moodiness, while Cancer's comforting nature can calm Gemini's high-strung nature when they get too nervous. Gemini's talkative nature can draw Cancer out of their shell, and because Cancer is so imaginative, they can keep the Twins entertained for hours. Both adore children and would be happy to have a family together with Cancer being the caretaker and Gemini being the "fun" parent.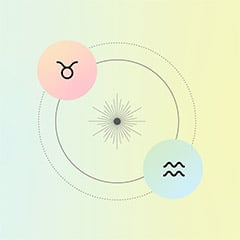 Love CompatibilityZodiac love compatibility is complex...
Find out whether you and your partner are a perfect match!

In sex, the couple starts with great chemistry as passionate Cancer can easily fulfill Gemini's physical needs by being so giving and attentive. In turn, Gemini has no problem taking the lead in the bedroom and dominating the submissive Cancer. Gemini can release Cancer's inhibitions to enjoy themselves. With imaginative Cancer and creative Gemini, this pairing can get very kinky in bed with roleplaying and interesting positions. However, despite all their sexual compatibility, they view sex very differently. Gemini thinks of sex more as fun and playful, whereas Cancer considers sex another way of showing love and commitment. So, if they aren't on the same page, things can get awkward quickly.  

While this duo starts out fun, there's trouble down the road for this part, as they have completely different temperaments and goals. Cancer needs to feel secure in a relationship and has a strong domestic streak in them. Meanwhile, Gemini cannot stand to be tied down. Even committing to a dinner date is too much. Gemini has no patience for Cancer's moodiness and constantly tells them to "lighten up." Cancer is annoyed by Gemini's fickleness. Gemini has a sharp tongue and a sarcastic wit which can hurt the overly sensitive Cancer who can easily become defensive at the slightly dig. 

Another issue of the relationship is jealousy. Gemini's flirtatiousness and indecisiveness on whether to commit hurts the devoted Cancer. Cancer, insecure, can become clingy and jealous, which will only drive the Gemini further away until they leave for good. 

This couple can work if they both make an effort to understand the other. Gemini needs to learn that their words can hurt—even in jest. So, they should work on their apologizing skills. Cancer, meanwhile, needs to not be so insecure in their relationship and not try to hold on to Gemini so tightly (it's the easiest way to lose them). If they can do that, this can be a lovely relationship.
Speak to a live horoscope expert. Find clarity, connection, and a path forward. Click here and get your first reading for just $1.99!