Love Compatibility
Find out if your partnership will go all the way. Some Sun Signs naturally work well together, but others need to compromise to make it work!
Gemini
Gemini
5/10
It's always a party when two Geminis get together. As fun-loving air signs, they will never run out of things to talk about: from one of their many hobbies to the latest gossip. Spontaneous, this couple will never be bored with their spur-of-the-moment trips, romantic gestures, sex anywhere and everywhere. However, when the party is over and real life begins, this relationship can quickly become chaotic or too boring for the air sign Twins. 

This couple gets each other from the very beginning. Who else would understand a quirky Gemini better than another quirky Gemini? Hastily booking trips to Europe, researching 14th-century paper crafts, learning Latin at two in the morning? It makes sense to them! As witty intellectuals with a gift of gab, this couple can entertain each other for hours without getting bored or tired. Both hate commitment so they don't feel tied down in this relationship: It feels both free and fun with an intimate connection. These social butterflies each have tons of friends and love to throw big parties together. They feed off each other's high energies and bond over living life to the fullest.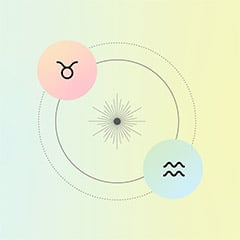 Love CompatibilityZodiac love compatibility is complex...
Find out whether you and your partner are a perfect match!

Witty and clever, foreplay for this couple begins in the mind as they seduce each other with banter. Mental seduction is one of the most pleasurable parts of sex to an air sign. Twin Geminis can do the dirty anywhere as their spontaneity allows them to have sex anytime to keep the spark alive—even in public. Creative signs, they can get pretty kinky in bed: handcuffs, roleplaying, three-ways. They'll do anything once!  

For as much as two Geminis have in common, they can be kind of a train wreck. Being mutable, high energy, air signs, there isn't a stabilizing force in the relationship. Geminis are high-energy and high-strung. When one becomes anxious about something, the other wouldn't be able to calm them down. In fact, the other Gemini would start to over analyze the situation and make it worse. Both are a little scatter-brained so they can't keep each other on track. 

Their opinions are also another story. Geminis love a good debate, but their "friendly" argument can quickly become a full-blown fight. Being indecisive, the two can't decide anything—from where they should go for dinner to whether they should break up. Actually, it wouldn't be uncommon for Gemini/Gemini pairing to break up and make up several times. They also hate being bored, so they may indulge in harmful behaviors to keep the relationship spicy: starting fights out of boredom, affairs, or even out of control overindulgences. This can quickly make the relationship toxic. Without something to keep them grounded, these two will fly into space. 

This could work if one of two things happen: 1) these two meet when they are older and more mature or 2) they realize early in a relationship that they need to act like a team. This includes helping each other when one is nervous or getting groceries when there is no food in the house (instead of hoping the other will do it). If they can learn that stability isn't boring, that's the key to relationship success.
Speak to a live horoscope expert. Find clarity, connection, and a path forward. Click here and get your first reading for just $1.99!