Love Compatibility
Find out if your partnership will go all the way. Some Sun Signs naturally work well together, but others need to compromise to make it work!
Gemini
Scorpio
6/10
In any kind of relationship with each other, whether friendship, companionship, or partnership, Gemini and Scorpio have the gift of curiosity. Gemini will be instantly intrigued by Scorpio's notoriety for privacy. They will know Scorpio is socially selective and have very discerning taste when deciding who to welcome into their inner circle. For Gemini, this is a challenge they will willingly and enthusiastically accept. Their inherent inquisitive nature will see breaking through Scorpio's mysteriousness as the ultimate validation of their social skills and charm. They will want to dig deeper and prove themselves as worthy of seeing what Scorpio is hiding from others. 

Scorpio may initially see Gemini as someone whose very nature they don't vibe with. They will not immediately understand why anyone needs to talk to strangers or share intimate details of their lives with strangers. For Scorpio, the very nature of secrets is that they are not meant to be shared. To them, intimacy is something that is earned, never given easily. But over time and with some adjustment of their perspective, Scorpio will see Gemini's social dexterity as quite admirable. In fact, it may be something they can learn and grow from themselves. It will inspire them to let down their pincers and introduce more lightheartedness and spontaneity into their lives. As they navigate this unknown terrain with each other, both will be called to remain open-minded and accepting of someone who is not like themselves.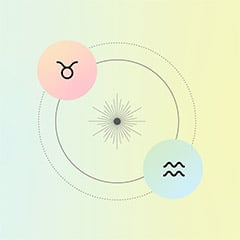 Love CompatibilityZodiac love compatibility is complex...
Find out whether you and your partner are a perfect match!

In love, Scorpio is deeply determined and passionate. They crave soul-centered intimacy and due to their fixed nature, will remain focused on the person they are mated with. "Focus" is not exactly a Gemini keyword. Their mutable air quality wants to keep things light and fun. They see relationships and conversations as breezy and don't want things to feel too heavy or serious too soon. This will not always gel with Scorpio's intensity and need for assurance that their feelings are reciprocated. Jealousy may begin to creep up as Gemini casts a wide social net, welcoming anyone into their group. Scorpio prefers very few and super close confidantes. Gemini craves spontaneity and adventure, with room to change their mind, and freedom to rearrange their schedule. Meanwhile, Scorpio is dedicated to making a plan and keeping their commitments.

This is a relationship that can provide a lot of healing and intimacy, if both parties can hold space for the other person to be their most authentic self. For Gemini, it means understanding that Scorpio only feels comfortable sharing after a long getting-to-know-you period. For Scorpio, it means letting down their suspicions and accepting that Gemini has a genuine need for social connectivity and asking questions. 

By being compassionate to the other's priorities, they can strike the perfect balance between head and heart. They both have a need to discover the truth about other people by uncovering as many facts as possible—so they should honor it. It's as if they both have a mutual love of studying. In this case, it's the study of psychology, and of finding other people fascinating!
What does today's card pull mean for you? Get a personalized interpretation. Click here to get your first reading for just $1.99.