Love Compatibility
Find out if your partnership will go all the way. Some Sun Signs naturally work well together, but others need to compromise to make it work!
Gemini
Sagittarius
8/10
There is an undeniable chemistry between Gemini and Sagittarius—the kind that whizzes with heat and electricity. Gemini is an air-based sign and Sagittarius is all about that dynamic flickering fire, creating an effortless elemental match with tons of sparks. Gemini's intellectual prowess will fan any of Sagittarius' big ideas, making this duo a formidable partnership in business or romance. No matter who is bringing the energy, the other will undoubtedly stoke the flame to new and dizzying heights. 

This energy is doubly charged when factoring in that Gemini and Sagittarius are opposite signs on the zodiac wheel, creating the classic "opposites attract" energy. You can expect that irresistible, moths-to-a-flame, eyes-finding-each-other-across-the-room, destined-to-be-together kind of synergy, one that may catch them each by surprise. Finally, add in that Gemini and Sagittarius are both mutable signs, making them mutually understanding of how the other fundamentally operates. All combined, these enviable factors for a couple in love creates the perfect trifecta of sexual sparks, mental connectivity and adaptable personalities that desire to form and maintain a long-term union with each other.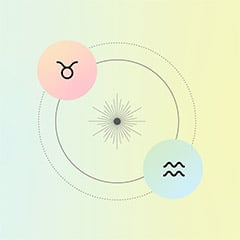 Love CompatibilityZodiac love compatibility is complex...
Find out whether you and your partner are a perfect match!

Where you may find tension in this otherwise unstoppable combination is that Sagittarius values pontification and pondering over Gemini's fact-gathering and data collection. Sagittarius has the classic Jupiterian grandiosity in their thinking and style. They like to take the 30,000-foot perspective and may not necessarily see the value in Gemini's more detail-oriented, Mercurial approach to conversations. Gemini values a rich and complex story filled with minute details that add color, dimension, and nuance. Sagittarius may see those as meandering detours that detract from the main plot. 

At a party, one can easily find the Sagittarius in the center of the room, dazzling a captive audience with a wild tale about one of their adventures, littering the tale with their acerbic wit and inherent charm, a veritable one-person show. Gemini, on the other hand, would much rather flit from room to room, person to person, having quick chats and catch-ups with everyone at the party. They'll find that either reacquainting themselves with friends they haven't seen in a while or introducing themselves to a new contact that they will become fast friends with. Neither Gemini nor Sagittarius will understand the other's approach, but if they work on acceptance, their different styles can be appreciated. It may even be that both eventually integrate the other's approach!

Learning to respect each other will be paramount to this couple's success. Sagittarius relies heavily on faith and beliefs, whereas Gemini needs facts and data to feel like they can make a decision they feel confident about. Both will be called on during times of conflict to remember their shared trait of optimism. They both want to see the bright side in challenges and believe the best outcome is always possible with a little bit of luck. That means that Gemini can bring more stability to Sagittarius' philosophical feelings while still giving them room to be themselves. They will both ultimately attain the knowledge, mental stimulation, and like-minded partner they both want at their side.
Speak to a live horoscope expert. Find clarity, connection, and a path forward. Click here and get your first reading for just $1.99!