Love Compatibility
Find out if your partnership will go all the way. Some Sun Signs naturally work well together, but others need to compromise to make it work!
Gemini
Aquarius
9/10
Just like the song goes, Gemini and Aquarius are two people who need people. These are two sun signs who love to talk and live to connect. As air signs, they operate in the realm of ideas and can spend endless amounts of time pondering evocative concepts or enjoying lively discussion and healthy debates. Unlike other signs who shrink from expressing their opinions, Gemini and Aquarius are not fearful that a differing point of view precludes them from being popular. In fact, they are proud to share their point of view. They believe that connectivity is about authentic expression.

Geminis are natural born chatterboxes, so they view conversations as an opportunity to discuss different topics with different groups—learning something from everyone they talk to. Gemini will ask lots and lots of questions, going a mile wide and a few inches deep. They want to cover as much terrain as possible, so an Aquarius can expect a rapid-fire rate of interrogation during the getting-to-know you phase with a Gemini.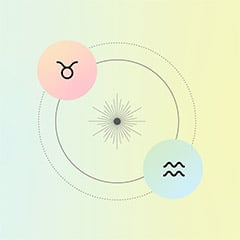 Love CompatibilityZodiac love compatibility is complex...
Find out whether you and your partner are a perfect match!

Aquarius operates from their fixed air quality, meaning they want to have discussion but can appreciate going deeper and staying on one topic. For Gemini, this fixation will likely seem to them to border on obsession, and to avoid boredom, they will subtly encourage Aquarius to move along to a new topic. However, Aquarius sees the benefit to conversation as the possibility to change other people's minds about society. And luckily for them, Gemini is more than willing to accept and adopt another perspective—at least for the time being! 

This is a dynamic couple with a lot of mental prowess. They prize innovative thinking, novelty, and spontaneity above most else. If Aquarius begins to get stuck on a certain topic or is having a mental block, they can easily rely on Gemini to infuse a different point of view or alternate mode of thinking. This can keep them on their toes and learn to adapt, which is something a fixed sign should be encouraged to do occasionally. For Gemini, they now have a verbal sparring partner who may point them towards defending one particular point of view, at least in the moment. Aquarius also loves planning and organizing, so they will add structure to Gemini's more free-wheeling, free-spirited mode of social operation.

This kind of intellectual stimulation is very thrilling, but their biggest hurdle will be dealing with the thornier topic of feelings. For two air signs in love, feeling their feelings and not intellectualizing them can prove to be a challenge. Being rational is important, but so is being in tune to the emotional landscape—particularly when two people are cohabitating. How each adapts to hold space for their own emotions while honoring the other person's as well will be a task they need to work through. But as long as both parties show their love and affection and honor the other's point of view, this is an easy relationship between two like-minded souls.
What does today's card pull mean for you? Get a personalized interpretation. Click here to get your first reading for just $1.99.