Love Compatibility
Find out if your partnership will go all the way. Some Sun Signs naturally work well together, but others need to compromise to make it work!
Gemini
Virgo
6/10
Mercury rules both Gemini and Virgo, so expect a lot of inquisitiveness from both people in this dynamic. As the relationship progresses, whether it starts off as friends or turns into an exclusive dating situation, the most pressing question for both signs will be: "If everyone is talking, who is listening?"

Both Gemini and Virgo love words, writing, and fact-gathering, just for slightly different reasons. Gemini delights in flirty texts and witty banter. For them, seeing the typing bubble "…" on their texting app means the game is on! It's thrilling and gives their rapid-fire brain time to craft the perfect word play. Luckily for them, Virgo equally delights with words and Gemini's flirtatiousness means Gemini will be eager to coax Virgo out of their inherent shyness. Flirting back will initially inspire nerves for Virgo, but eventually, Gemini's charm and insistence will encourage them to be bolder than they believed themselves capable.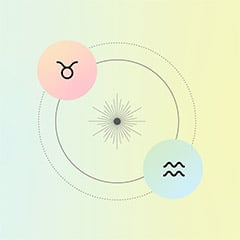 Love CompatibilityZodiac love compatibility is complex...
Find out whether you and your partner are a perfect match!

When Virgo is the initiator, communication will be more centered around comparing compatibility. They'll store all answers to questions in the vast databank of their cataloging brain for future use. They'll want to evaluate how this relationship will fit their daily life and future goals. If Gemini has enough consistency for their more earth-toned nature, that is. But Virgo will also remember everything Gemini tells them about their favorite music, food, and movies, and will later surprise Gemini at how closely they were paying attention when Virgo produces the perfect gift or plans a thoughtful activity. Gemini's changing interests will not only introduce Virgo to new ideas and routines but will serve as a constant source of fun (something that Virgo wants and needs more of). Virgo's grounded qualities and keen memory will touch Gemini and inspire them to incorporate thoughtful and nostalgic gestures as well.

What brings these signs together is that each has a natural sense of curiosity around wanting to know what makes the other person tick. As two mutable signs who square each other, that interest can quickly translate from a meeting of the minds to a meeting after dark. They'll find each other intriguing. In fact, their not-so-subtle differences will actually be a huge turn-on. Expect a lot of energy as Gemini's electric air quality meets Virgo's slow and grounded style.

The square energy that translates into a physical dynamic can often lead to unintended miscommunication, however. Both may wonder when it's their turn to talk. For this relationship to succeed, it's all about learning how to adapt to different communication styles without compromising themselves in the process. Gemini needs freedom to explore new ideas and Virgo prizes routines and time-honed rituals. If they can either learn to adapt to include the other's approach, this can help them both evolve. If not, this will certainly be a sexually satisfying partnership that both will remember fondly.  
What does today's card pull mean for you? Get a personalized interpretation. Click here to get your first reading for just $1.99.