Love Compatibility
Find out if your partnership will go all the way. Some Sun Signs naturally work well together, but others need to compromise to make it work!
Gemini
Libra
9/10
Fun and flirty are the keywords for Gemini and Libra's relationship. These two social butterflies have an easy-breezy dynamic, as you might expect from two air-dominant signs. With their suns forming a harmonious trine, there is mutual understanding between the two. They'll understand how they the other thinks and communicates (and when one of them needs space). Air signs love ideas, communicating, and connecting, so it is very likely these two will either meet online, know each other from mutual friends, take a class together, or unexpectedly have a chance encounter at an event—like a concert, museum exhibit, or the library.

As two people who love to socialize, when a Gemini and a Libra are dating, neither one will ever be on the receiving end of the phrase, "I didn't see your message." No text will go unanswered and these two are never more than arm's reach away from their phones, their mutual lifeblood for staying in touch with their vast and wide social networks. When planning dates, their modus operandi will be what will attract the most likes when they post photos of the occasion online later. Is it tickets to a summer concert series with front row tickets to see the headliners? Is it holding a playbill of the most trending theater play? An artfully arranged photo op of dinner for two at the most exclusive restaurant in town? For them, dates are opportunities for mixing and mingling—with each other, but especially with other people. They enjoy group dates, so prepare for a calendar filled with post-work networking events, tickets to shows and concerts, and of course, fun group photos with everyone tightly pressed together.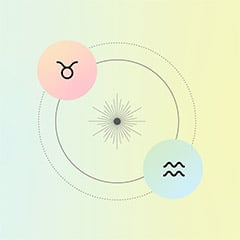 Love CompatibilityZodiac love compatibility is complex...
Find out whether you and your partner are a perfect match!

Neither Gemini nor Libra loves to argue, so as a couple, expect both people to aim to please. They'll encourage each other with lots of enthusiasm, with a baseline that angles towards agreement. If and when they do argue, they both may initially deploy a "ghosting" strategy. Air signs, when upset, need space to clear their heads. When they do come back together, they will both make sincere attempts to be rational and reasonable while stating their case as to what displeased them.

While they can accept opposing viewpoints more easily than most, they may also run into problems when someone needs to make a firm decision. That's when Libra's trademark indecisiveness brings out Gemini's penchant for changing their mind often. In order for this relationship to progress, or even for a simple decision to be made (like what to have for dinner), someone needs to take charge. And neither sign loves to do that. There can be a lack of forward momentum as both will feel overwhelmed by too many choices. Should they stay friends or start dating? Should they remain casual or become exclusive? These concepts will take a lot of rumination and back-and-forth between the two. However, as long as neither one gets too frustrated and learns to work through challenges by taking responsibility and accountability, this relationship is made to last.
Speak to a live horoscope expert. Find clarity, connection, and a path forward. Click here and get your first reading for just $1.99!