January 2022 - January could have you moving forward on a creative career idea, Libra.

The new moon in Capricorn is on January 2, and even if you go into an office, it's still good to have a comfortable place to work on your investments at home. Now is a great time to declutter and redecorate. Use colors that represent success like gold, burgundy, and green. It might be a good time to treat yourself to a new office chair if you're still using one from your college days.

Mercury goes retrograde in Aquarius on the fourteenth, and you could feel drawn to a creative project. You might be working on your video channel or podcast or making handcrafted greeting cards from homemade paper pressed with dried flowers. Instead of just dabbling, use this energy to get serious about what you're doing.

The full moon in Cancer is on January 17, and, Libra, your career is highlighted and so are you. Your boss could pick you out of the crowd for a particular compliment and pat you on the back. You might receive more calls from headhunters at this time. And if you submit your résumé for a new job, it could glide to the top of the pile.
Discover the transformational power within you and move on from heartbreak with a free psychic love reading!
More Horoscopes for Libra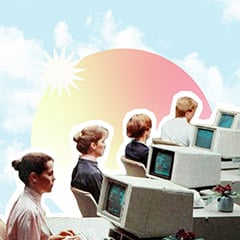 Personalized Career Horoscope