June 2022 - On June 3, Mercury goes direct in Taurus and your house of investments, and now you could implement a new investment strategy. However, you might want to give this energy a few days to get up to speed. Libra, you could be anxious to move forward, but the rest of the world needs time to catch up.

The fourteenth brings the full moon in Sagittarius, and for the next two weeks you're lucky with contracts, negotiations and communication in general. It's time to speak up and suggest what you want. Even if you receive a no at first, this energy can help you bring people around to your way of thinking.

On June 22, Venus enters Gemini. You could be very interested in learning something new. Over the next month, you can add to your skills in social media, publishing, writing, teaching or something to do with international business. But be careful of "shiny object syndrome" and running from one subject to the next.

The new moon in Cancer is on the twenty-eighth, and a new career opportunity knocks on your door. Someone you know might give you a reference or even offer you a job. If you're a contract employee, you could sign a new contract.
It's complicated -- but it doesn't have to be. Find out more with a psychic love reading, on us!
More Horoscopes for Libra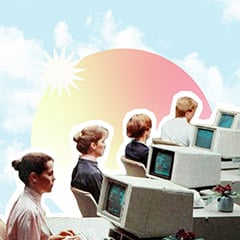 Personalized Career Horoscope