October 2023 - This month, you could make a substantial gain.

On October 8, Mars in Libra squares Pluto in Capricorn at the top of your chart. Taurus, if you're searching for a job, this is an extraordinary time. You could receive an offer for a job you're qualified for but that falls outside your comfort zone. People could be enthusiastic about working with you, and there might be opportunities for training. Take this chance to assess if this opportunity aligns with your long-term goals.

There's a new moon and solar eclipse in Libra on the fourteenth. Taurus, your work routines could be disrupted. You might find that some colleagues are absent or on extended leave, or it's possible that company downsizing has reduced the number of staff available to help you. Use this time to streamline your tasks and explore opportunities for automation.

On October 28, there's a full moon and lunar eclipse in your sign. This presents you with an opportunity to get something you've been seeking for a while. It could be a better position or a raise. If you've been hunting for a job, this could signify an interview or a job offer.
What does your horoscope mean? Get a personalized interpretation. Click here and get your first reading for just $1.99!
More Horoscopes for Taurus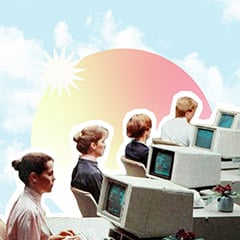 Personalized Career Horoscope