September 2022 - The month of September brings energy for efficiency and effectiveness.

Venus enters the sign of Virgo on September 4, and, Taurus, one of your older kids might want some help with a business idea. You could show them how to get started with an online shop. Or you might help them compose their first resume. This is inspiring you to get some business things done for yourself. As you help someone younger, you help yourself.

There's a full moon in Pisces on the tenth. Also, Mercury is now retrograde in Libra. Over the next two weeks, something needs to be redone. A coworker might not have been doing something correctly and now it falls on your shoulders to not only fix the data but correct the process. This means a lot of extra work for you, so you might want to enlist some help from your supervisor.

There's a new moon in Libra on September 25. Over the next couple of weeks you are more effective than ever. You might be in a really solid routine. People around you are helpful. They show up on time and get the job done. It's going so well that it's possible you could take a few days off to get a little rest and relaxation.
Get intuitive advice to guide your personal journey.
More Horoscopes for Taurus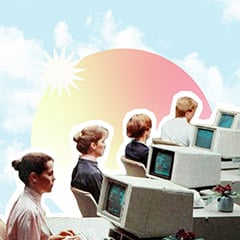 Personalized Career Horoscope