Love Compatibility
Find out if your partnership will go all the way. Some Sun Signs naturally work well together, but others need to compromise to make it work!
Taurus
Taurus
8/10
The love between these two won't be something to write romance novels about—which suits these fixed earth signs just fine. Taurus is not interested in sappy love affairs. They prefer stability and safety above all else, making them a great couple. Both are traditional homebodies who seek a life partner. 

Being the same sign, this pair has a lot in common: They're hardworking, loyal, and deeply affectionate. Both are money-minded so they will rarely get into a fight about their finances. Each enjoys luxury and will probably work together to save in order to purchase a beautiful home, dates to fancy restaurants, and vacations. Both may have a pretty possessive nature that scares off other signs, but together, they bring a sense of security in the relationship. Taurus is honest to a fault, so they never have to wonder what the other is thinking. And there's no worry about cheating. This couple is loyal to the core.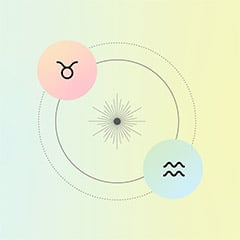 Love CompatibilityZodiac love compatibility is complex...
Find out whether you and your partner are a perfect match!

While an outsider may deem the couple as "boring," this couple has a tender sweetness that most don't see because they are so private. They are mutually devoted and affectionate toward one another and have a strong desire to share the rest of their lives together. With eyes always on the future, this couple enjoys planning their lives together. It wouldn't be a surprise if, on the first date, they decided the name of their future children and what caterer they should have at their wedding. While they make a practical, no-frills relationship, together, they just make sense. 

One place this couple isn't dull is in the bedroom. Physical and sensual, a Taurus couple acts like animals in bed—wanting to touch, squeeze, and mark their lover. They aren't big on public displays of affection but will give each other love bites to "mark" the other as theirs. Both have high sex drives that can go all night long. Despite their reputation as a "boring" couple, a Taurus/Taurus relationship probably has sex more than any other pairing. This is mainly because they scheduled it in advance and stick to a routine. Honest and open, this pairing isn't shy about what they want in bed and are eager to please. 

The downfall of being in a relationship with the same sign is that this can lead to being too similar. Their bad habits are highlighted in their partner. Both are very stubborn, so if there's an argument, neither will budge from their position—or apologize. It can be a real battle of wills. Speaking of stubbornness, it is highly unlikely that this couple will ever break up—even if they are deeply unhappy. And that's because Taureans are too stubborn to admit defeat. If they get married, they most unlikely to get a divorce for fear of change. The Bulls would rather stay in a miserable relationship than look for happiness elsewhere. 

To keep your relationship from being boring or becoming too co-dependent, both Taureans need hobbies and friendships outside of the relationship. That way, they have something to talk about and have opportunities to step outside their carefully planned routines (which is a good thing).
What does today's card pull mean for you? Get a personalized interpretation. Click here to get your first reading for just $1.99.