Love Compatibility
Find out if your partnership will go all the way. Some Sun Signs naturally work well together, but others need to compromise to make it work!
Taurus
Gemini
4/10
Despite being just one sign apart, Taurus and Gemini could not be more different. Taurus is slow and steady while Gemini practically bounces off the wall with energy. When Taurus makes up their mind, it's written in stone. However, Gemini can change their mind six times before breakfast. Taurus is a fixed earth sign: stable, persistent, practical, and controlling. Gemini is a mutable air sign: flexible, resourceful, innovative, and impractical. They just don't seem to mix. 

However, despite all their differences, the couple is usually drawn to each other. Gemini is intrigued by Taurus' quiet but devoted passion and sensuality. Taurus is drawn to Gemini's natural vivaciousness—the way people naturally gravitate toward Geminis. Gemini finds Taurus' direct, no-nonsense way of speaking refreshing. Taurus loves Gemini's adaptability. The best part: They both love to laugh.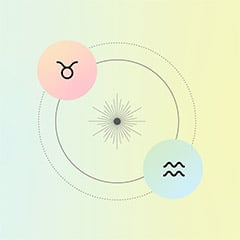 Love CompatibilityZodiac love compatibility is complex...
Find out whether you and your partner are a perfect match!

Part of the reason this couple can work is because they fill in each other's weaknesses.  Homebody Taurus can keep a lovely home and provide financial stability for flighty Gemini, while Gemini can help shy Taurus break out of their shell and explore life. Gemini can show Taurus multiple sides of a problem, while Taurus can teach Gemini how to make a decision.  Taurus brings logic and Gemini brings possibilities. Together, they create balance and can form an unstoppable team. 

Chemistry-wise, it's lust at first sight. Taurus will be instantly charmed by Gemini's sharp wit and good looks, but Gemini is instantly attracted to the sensuality that rolls off Taurus. In the bedroom, Taurus is a very physical lover: massages, tender kisses, and love bites. Gemini is a very creative lover—so, Taurus should expect anything and everything. 

What may kill the mood is that Gemini is very into mental foreplay and pillow talk—something that Taurus doesn't always have the patience to do. And while Taurus is a very physical and dominant lover, they are pretty vanilla in the bedroom and not very interested in going outside their comfort zone. This can bore the sexual adventurous Gemini. Communication can work. 

Possibly the biggest struggle that this couple will have is that one wants consistency (Taurus) and one wants flexibility (Gemini). Taurus craves stability above all else: They want a solid commitment from their partner. They want a beautiful home and a family. They want someone to grow old with. Meanwhile, the only thing Gemini wants consistently is change: They cannot be happy standing still for very long. A commitment scares Gemini and they hate routine. The white picket fence life that Taurus wants would bore most Geminis to tears. 

Another point of contention is that Taurus loves to be in control while Gemini cannot stand to be controlled by anyone. The more Taurus tries to cling, the more Gemini will pull away. Taurus is very jealous, while Gemini is a natural flirt—so trust is a big issue. Taurus may become possessive of Gemini out of fear that they might be unfaithful, which breeds resentment in Gemini. Taurus could also run out of patience with Gemini's flightiness and snap. This will cause Gemini to leave the relationship for good; they were bored anyway. 

While this pairing is difficult, it's not impossible if both signs can be patient with each other. Once they understand how the other one thinks, and they listen to one another, they can work as a team. Compromise is key here. If Gemini can respect Taurus' reliability and devotion, and if Taurus can appreciate Gemini's versatility and curiosity, this could be a lasting relationship.
Speak to a live horoscope expert. Find clarity, connection, and a path forward. Click here and get your first reading for just $1.99!