Love Compatibility
Find out if your partnership will go all the way. Some Sun Signs naturally work well together, but others need to compromise to make it work!
Taurus
Libra
5/10
It seems like a good match. Both signs are ruled by the planet Venus, making them lovers at heart. Both appreciate fine art, music, and just beautiful things. Together, they would make a very stylish couple. However, when they get past the surface, there isn't much substance to this pretty relationship. Both Taurus and Libra have completely different views on love, finances, and communication that will make it difficult for them to last for more than a season. 

As mentioned, they do have some things going for them. Taurus enjoys Libra's warm, romantic nature and is drawn to their vibrance like a moth to a flame. Libra likes the seemingly endless devotion, reliability, and trustworthiness that Taurus provides. The Bull is patient, so they won't fuss when Libra takes hours to get ready. Both are easygoing, so there won't be a lot of petty arguments. Being signs of Venus, they enjoy fine dining, collecting art, and indulging in luxury experiences (maybe a little too much). If they live together, they can create a beautiful space. Together, they are a warm, welcoming couple.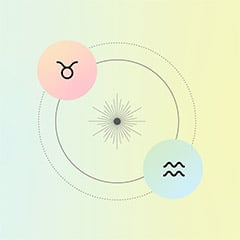 Love CompatibilityZodiac love compatibility is complex...
Find out whether you and your partner are a perfect match!

Flirtatious Libra will have no problems charming Taurus into bed but trying to bring out the Bull's inhibitions will be the struggle. Taurus is an attentive lover: sensual and passionate, eager to satisfy pleasure-seeking Libra. Libra is a romantic at heart, so lovemaking for them is filled with candles, rose petals on the bed, and smut similar to that of trashy romance novels. All those things will make Taurus uncomfortable. Meanwhile, Taurus can get very physical in bed, which can ruffle the soft Libra who does not like to be man-handled. Eventually, Libra may get bored with Taurus' same-old sex routine and split—they always get the most pleasure from the seduction after all. 

Despite being ruled by the same planet, Taurus and Libra couldn't be more different. The signs are quincunx, five signs apart—meaning they have almost nothing in common in terms of temperament and personality. Sure, they both like the quality thing, but Taurus' taste tends to stay traditional while Libra is obsessed with the latest trends. Regarding money, Taurus is a saver while Libra is a spender—making the couple's finances a point of contention. Taurus is more of a homebody while Libra is a social butterfly. Taurus can easily be annoyed by Libra's indecisiveness, and Libra cannot deal with close-minded and stubborn Taurus. One sees in color while one sees in black and white. 

What will finally kill the romance here is jealousy. Libra, being deeply charming and flirtatious, will cross boundaries without meaning to—which will enrage the possessive Taurus. The more Taurus tries to cling to Libra, the more the Scales want to leave, unwilling to be tied down to anyone.  

Trust is the key here. Taurus needs to put their possessive nature aside and remember that Libra won't leave them just because they are close with someone else. Libra needs to learn to appreciate how hardworking Taurus is and how much they provide for their shared lifestyle. Taurus isn't boring, they are structured. If these two can learn to respect one another, this could be a loving, sensual couple. 
What do the Tarot cards say about your life? Find out now. Get a FREE Tarot reading.