January 2022 - This month will have you going deep, dear Aquarius, as several celestial bodies make their way through the sector of your chart that rules the subconscious.

Luckily, it won't all feel heavy. Thought-provoking Mercury sets up camp under your sign on January 1, helping you maintain a healthy perspective and sense of self. The new moon manifests the next day, asking you to set your intentions from the core of your soul. Setting goals that help you break behavioral patterns or release trauma from the past will go well in this cosmic climate.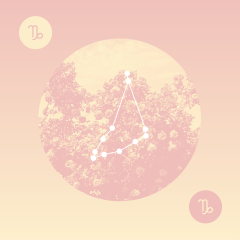 January Premium HoroscopeWe are not going to lie, the month ahead comes with its fair share of intense aspects! May is a month that will keep you on your toes.

Watch out for tension in your domestic life as Mercury turns retrograde while engaging in a harsh square with unpredictable Uranus on the fourteenth. These vibes could lead to miscommunication, unexpected turns of fate, random chaos, and financial loss. Whether it's a slow Internet or a broken appliance, remember to ground and center throughout the day or your stress level could inflame the situation.

The sun enters your sign on January 19, marking the beginning of Aquarius season! You should expect a healthy increase in your joy, confidence, energy, and strength over the next several weeks.

Take steps to use your voice when the sun and Mercury cuddle up in the cosmos on the twenty-third. Meanwhile, the Libra moon shares a helpful connection to these two, bringing a sense of peace and connectivity with it. This aspect will act as a bit of a portal between you and the other side, so be sure to light a candle and make a little birthday wish for yourself!

Standout days: 19, 23, 31
Challenging days: 4, 11, 18
Love is calling your name. Get an accurate prediction today!
More Horoscopes for Aquarius