Love Compatibility
Find out if your partnership will go all the way. Some Sun Signs naturally work well together, but others need to compromise to make it work!
Aquarius
Scorpio
5/10
Scorpio and Aquarius make an odd match. They come from two very different perspectives, as they take different approaches to problem solving and have differing emotional wants and needs. Scorpio is a deep thinker, always reading between the lines. Airy Aquarius, while also quite logical, prefers not to dwell on things. Aquarians are very social and like to be out and about with people, while Scorpio prefers a quiet night at home, alone or with a select group of close friends. Aquarius often feels limited by Scorpio, and Scorpio feels pushed in directions they aren't comfortable going.

Because both Scorpio and Aquarius are fixed signs, they have their own opinions and ideas and don't often budge or give in to the other. They can both be extremely stubborn, although Scorpio holds a grudge a lot longer than Aquarius. Aquarius likes to argue just for arguing's sake, which is a huge turn-off for nonconfrontational Scorpio. Scorpio is also a lot less likely to put their problems on social media, while Aquarius thinks little of putting it all out there. Scorpio's privacy often feels invaded by their Aquarius' seemingly flippant ways, and Aquarius doesn't seem to get what Scorpio is so upset about!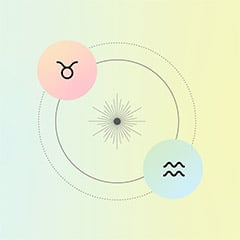 Love CompatibilityZodiac love compatibility is complex...
Find out whether you and your partner are a perfect match!

Scorpio is co-ruled by the planets Mars and Pluto, both are powerful and intense when it comes to combining passion and emotion. Aquarius is ruled by eccentric Uranus, giving them an offbeat, future-oriented outlook on life. While these three planets can connect harmoniously in the right situation, there is often a disconnect when both partners are unsure of the other's intentions. Is Scorpio getting overly emotional just to make Aquarius feel uncomfortable? Is Aquarius being weird (or playing mind games) just to get a rise out of their Scorpio partner? There often isn't enough commonality emerging from their ruling planets to bond them, especially when it comes to trust and loyalty. 

Scorpio is a water sign, so their emotions drive them. They feel things deeply and want a partner who cares about them and them only. Aquarius is an air sign, longing for emotional freedom. This isn't a good match for Scorpio, who wants to know their partner body, soul, mind, and spirit. They want to possess their Aquarius partner completely, which is a turnoff for most air signs. If they aren't given the freedom they want/need to be themselves, they won't ever thrive as part of a couple.

Romantically, Scorpio is a passionate lover, but they have to be able to trust their partner in order to let down their inhibitions completely. They have a suspicious nature, however, and their Aquarius partner isn't always forthcoming about their activities. This can interrupt bedroom time. Aquarius is initially captivated by Scorpio's seductive mysteriousness. However, they might not do what it takes to pursue a Scorpio and make them feel special, which is a big romantic buzzkill for Scorpio. If they get over their issues and make it into the bedroom, this couple can enjoy experimental and imaginative lovemaking sessions, but there are a lot of obstacles to overcome before it's the perfect match.
Get a FREE, 3 minute Astrologer chat. Connect now.