Love Compatibility
Find out if your partnership will go all the way. Some Sun Signs naturally work well together, but others need to compromise to make it work!
Aquarius
Cancer
4/10
Can Cancer grow outside of their well-defined and established comfort zone? Can Aquarius learn to balance logic and value feelings? These are the two fundamental questions that will need to be addressed when the sign of the Crab partners up with sign of the Water Bearer. While it is not your most conventional astrological pairing, for Aquarius, a sign defined by its defiance of established and staid traditions, there will be a challenge. Aquarius natives will have to decide if they are willing to take this on because once they meet Cancer, they will be inspired by a person with an air of intrigue and mystery that rivals their own.

Before they can get to reach these more intimate levels, both Cancer and Aquarius will have to contend with their stark differences. If a Cancer and Aquarius couple were to hear someone say that they would never have pictured them together, it would likely inspire a knowing smile, not defensiveness between these two. Their individual peculiarities are what brought them together and they will learn to cherish that fact. They are the first to acknowledge their differences. However, if that gentle observation turned into a more incisive attack both the Crab and the Water Bearer are known for defending what they believe and value. Particularly for Cancers, whose innate mama-bear like tendencies will come roaring to life if they think someone is not appreciating their fixed, air-sign partners for the unique and community-loving soul they truly are.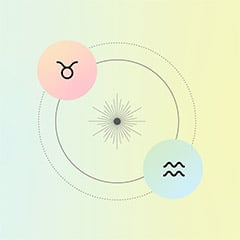 Love CompatibilityZodiac love compatibility is complex...
Find out whether you and your partner are a perfect match!

It will be good for Aquarius to get more in tune with the realm of emotion, as feelings are something that they can easily compartmentalize. Aquarians prioritize intellect and reason over more water-based emotions. Cancers are a consistent emotional processor in all situations. Together these two can teach other some important lessons. For Cancers, they can begin to accept that feelings are not necessarily facts. And for Aquarius natives, they'll see that life can have an added dimension when emotions factor into rational thinking. They'll understand that these two concepts are not mutually exclusive. 

Speaking of exclusivity, for shy and traditionally minded Cancer, the anti-establishment tendencies of Aquarius may prove to be too big a hurdle to overcome. Cancers may be open to attending more political rallies now that they are coupled with Aquarius, but Cancers will need their feelings addressed, as well. Because Aquarius revels in questioning convention, like the idea of only being partnered with one person for the rest of their lives, Cancer will not want to face compromising on settling down, creating a home, and family. During arguments, each sun's notorious stubborn streak will flare, leaving both to seek solace and solitude, not each other, to cool off.

Whether this relationship only lasts for a short-fling or turns into a long-term commitment, it promises to be a uniquely memorable relationship. This couple will navigate being with someone whose composition is totally alien to their own. Luckily, both Cancer and Aquarius have a great sense of humor, so all that initial awkwardness will make for some laughs that will later turn into private inside jokes. 
Get a FREE, 3 minute Astrologer chat. Connect now.