June 2023 - This month, you're becoming more efficient.

There is a full moon in Sagittarius on June 3. Libra, the key to success right now is communication. Don't wait for the right time to send an email or text. You could compose it now, get it ready, and use a scheduling app if you want it to go out after business hours. Otherwise, just send it and be done with it.

On the seventeenth, Saturn in Pisces goes retrograde, and there is a new moon in Gemini. Libra, you have an opportunity to attend a conference, meet customers, or promote your business. But to do this, you need to streamline your operation and find ways to be more efficient. Look at systems you can automate so you'll have more time to do the really important work out in the field.

Mars in Leo squares Uranus in Taurus on June 26. A financial opportunity becomes available to you. This is a little different from anything you've done before. And so it's going to take some research. It might have something to do with technology or an investment that happens automatically. Get some help before you proceed.
Want to deep dive into your astrological future? Chat with an astrologer today. Try it now. Click here and get 10 minutes for just $1.99.
More Horoscopes for Libra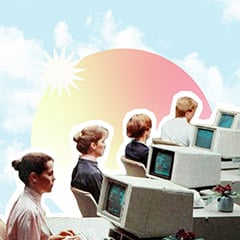 Personalized Career Horoscope