Love Compatibility
Find out if your partnership will go all the way. Some Sun Signs naturally work well together, but others need to compromise to make it work!
Libra
Scorpio
6/10
When Libra and Scorpio get together, there are some mutually satisfying and emotional rewards. Scorpio is the deeper thinker of the pair, but Libra's optimism and quest for balance helps keep Scorpio (and the relationship) on track for better things. And Scorpio, with their everlasting willpower and determination, can help Libra stay the course and reach for the stars with future self-improvement goals.

Libra and Scorpio have similar intentions when it comes to working as a team, and they both bring some great yet very different qualities to the partnership. Here is where the combination of emotion and logic meet up and form a bond that's hard to break; both signs are extremely loyal yet are willing to take risks, which makes for a very interesting relationship where there are very few boring moments!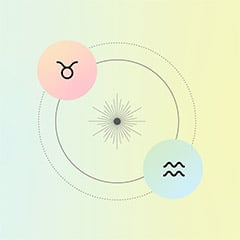 Love CompatibilityZodiac love compatibility is complex...
Find out whether you and your partner are a perfect match!

Libra is ruled by beautiful Venus, the goddess of love, so they are experts in the art of romance. Scorpio, co-ruled by powerful Mars and secretive Pluto, has strong thoughts about love and passion. They have strong sexual urges. When these three planets get twisted up in a love relationship, there can be some very explosive moments. Libra might struggle with Scorpio's magnetism and attempt to control them, and Scorpio might not understand why Libra is able to hold on so loosely. A major goal for these two will be to head off any major arguments before they happen.

Libra is an air sign, driven by the need to be active rather than passive and to always keep things moving along. Air signs tend to want to go wherever the wind takes them—which can be like a breath of fresh air to the right partner. Scorpio is an emotional water sign—extremely intuitive and very emotionally sensitive. Some might even call them needy at times. When these different personalities form a union, it can be intriguing—or complicated. Sometimes, Scorpio's emotions can overwhelm Libra, and Libra's scattered indecisiveness can frustrate Scorpio. As long as they remember they're both on the same side, they can keep the peace in most cases. Scorpio will have to check their possessiveness at the door a lot of time when Libra's flirty (but harmless) nature is on display.

Libra is a cardinal sign, always thinking of new ideas. They like to be the first one to do everything in a relationship and take pride in showing their Scorpio partner around a new place or introducing them to a new restaurant. Scorpio is a fixed sign, and they take joy in keeping things stable. Scorpio is able to take Libra's (sometimes unfocused) ideas and turn them into something spectacular! For example, when Libra dreams up a trip around the world, Scorpio gets busy happily planning the detailed itinerary.   

In romance, Libra and Scorpio both have an extremely charming and charismatic side. They will be attracted to each other instantly. Libra will be intrigued by Scorpio's secretive nature, and Scorpio will be marvel at how open Libra can be. Once these two lose their inhibitions around each other, romance can be adventurous and exciting.
Speak to a live horoscope expert. Find clarity, connection, and a path forward. Click here and get your first reading for just $1.99!