Love Compatibility
Find out if your partnership will go all the way. Some Sun Signs naturally work well together, but others need to compromise to make it work!
Libra
Libra
8/10
When two well-balanced Libras decide to form a relationship, it can be one the loveliest pairings of the zodiac. Both these people seek harmony in their lives above all else, so there will be very few confrontations and altercations. They search for peace in life and love, using charm and diplomacy to get it.

Ruled by love and money goddess Venus, Librans want to be loved and revered as harmoniously successful people. As a couple, they can work toward these goals together and feel like a united team. Libras are their most balanced in life when they are in love and are willing to compromise for each other. Rarely will two Libras fight about money, as their goals in this area are purely about harmony. They're willing to sacrifice their own needs to make sure their partner gets what they want.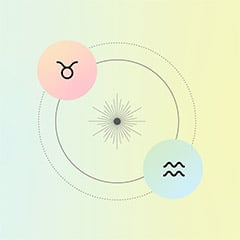 Love CompatibilityZodiac love compatibility is complex...
Find out whether you and your partner are a perfect match!

As two flexible air signs, both partners will seek a good amount of freedom and flexibility, and this can benefit their relationship if both parties are agreeable to the terms. Air signs love to talk about anything and everything, and their discussions can range from deep and philosophical to light and flirty. Both people in this relationship are diplomatic and polite, and their talks rarely devolve into shouting matches (especially in public). 

Libra is a cardinal sign, which means they would rather lead than follow. This can lead to some power plays in the relationship (even over trivial things like where to eat or what move to see). Because they are both so willing to compromise, however, these tiffs are easily erased with charm and tact. Because they are both cardinal sigs, they initiate projects well together, although finishing them won't be their forte. 

Romantically, Librans are first class lovers and love to be surrounded by the best: 1,000-thread count sheets, the best champagne, and a knockout view will put two Libran lovers in the mood. Being adaptable when it comes to lovemaking, they take on many of their lovers' desires. And although they have plenty of their own, Libra lovers enjoy making their partner's happy, so they'll often set their own needs aside in order to please them. So, how does this work when two Libras are together? They'll have to try very hard not to make their time together a "polite" affair. When two Libras stop being polite and start getting real, that's when the real fireworks can start!

Libras do love beauty and romance, however, so they are excellent at setting the mood for love. Thankfully, Libras are some of the best looking people of the zodiac, so attraction isn't usually a problem. Frequent compliments and stolen glances of admiration should help keep the romance going!
What does today's card pull mean for you? Get a personalized interpretation. Click here to get your first reading for just $1.99.