Love Compatibility
Find out if your partnership will go all the way. Some Sun Signs naturally work well together, but others need to compromise to make it work!
Libra
Aries
8/10
All is fair in love and war when Aries and Libra get together. Aries, ruled by Mars (a planet named after the God of War), and Libra, ruled by Venus (the planet named after the Goddess of Love), are opposites. But these opposites come together despite, or because of, their differences. There's plenty of chemistry to keep this relationship passionate and feisty—even though the flame of this unconventional love may blow out too quickly.

At the start of an Aries/Libra relationship, there is a powerful attraction the draws them to each other—even if they can't stand each other. However, once they start talking, they'll learn that they have a lot in common. Both enjoy socializing, entertaining, and are pleasure seekers. It's easy to picture this couple having big house parties with friends, going to concerts, and traveling together. As intellectuals, they enjoy having deep conversations and love having a partner they can really connect with. They also have strong convictions about justice. Libra, symbolized by the Scales, is all about peace and fairness. Aries, on the other hand, looks for a battle they can boldly lead. Give them a cause to champion and these dreamers could become the ultimate team. Libra's charm and elegant appearance can win allies while Aries' confidence and enthusiasm command attention. This could easily be a political couple as they are equally driven and can motivate each other to greatness.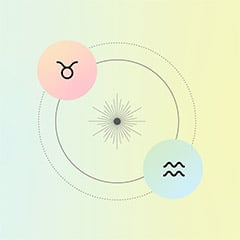 Love CompatibilityZodiac love compatibility is complex...
Find out whether you and your partner are a perfect match!

At first, Aries aggressiveness arouses Libra's sensuality. Libra enjoys Aries' confidence and is an enthusiastic lover. Aries enjoys how charming and seductive Libra is. However, Libra—who is all about fairness—will complain when the selfish tendencies of Aries comes out. Meanwhile, passionate Aries can get annoyed by how unemotional Libra can be. Libra gets off on mental foreplay while Aries is a doer, in every sense of the word. Libra wants to be romanced while Aries just wants to get it on. The best sex for them is angry sex.  

In this love/hate pairing, there is a LOT to hate. Over time, Libra can find Aries rude and tactless while Aries looks down on Libra for being too gullible and superficial. Aries is aggressive and direct, while Libra is the champion of passive-aggressive digs. Libra wants peace and harmony in life while Aries is always looking for the next battle to fight or the latest adventure to go on. Both are restless spirits but in different ways: Aries needs to travel while Libra can never decide. The Ram is independent and hates to be tied down, but also wants Libra to be completely committed to them and becomes furious when Libra cannot give them that. In the end, Libra will leave to find someone less demanding while Aries searches for someone who adores them. 

This relationship can work if they can learn to meet each other halfway (which will be easier for Libra than for Aries). If Aries wants a commitment from Libra, they have to be just as committed. Aries needs to learn to back down from a fight while Libra needs to shower their romantic love to Aries. If they share a common mission, they need to work together to make that happen, which means learning to love each other's strong points. 
Speak to a live horoscope expert. Find clarity, connection, and a path forward. Click here and get your first reading for just $1.99!