Love Compatibility
Find out if your partnership will go all the way. Some Sun Signs naturally work well together, but others need to compromise to make it work!
Libra
Virgo
6/10
When Libra and Virgo come together, it's all about what is pleasing—in every permutation of the word. These are two signs with exacting standards, who care a lot about portraying a meticulous composed appearance. They value a neat and tidy symmetry to their aesthetics. Libra loves balance in design, and Virgo prizes orderly composition. If these two begin co-habitation, making decisions about interior design or complementary fashion choices will make them an easy match—literally. Having ease in decision-making is a welcome relief for both signs. Virgo is known to perseverate and critique themselves for their actions, while Libra will never choose anything with carefully weighing out how this might affect another person. Even for something as simple as choosing a color for the couch! Both Libra and Virgo will breathe a sigh of relief that something so hard, now finally feels much easier. Additionally, neither Libra nor Virgo want drama, which further gives them reason to find the alignment they crave. There will be a quiet, amicable element in all of their interactions, and a mutual need to please the other in the bedroom. 

"Help me help you" will be a common refrain for Libra and Virgo to work through. Virgo will rush into fix-it mode the moment anything goes awry. Libra will lovingly be accommodating to any perceived whim or need their partner may experience. In this exchange, both may end up feeling as if they are not being useful. Because both signs are prone to be helpers, they may not initially know how to be on the receiving end of someone else's service. In fact, this will ultimately prove to be each person's biggest opportunity for soul growth. An opportunity that as a couple, they can begin to work out in the bedroom. Taking turns with exploring each other's inner wants, needs, fantasies, and desires is a great place to start. It's also important for both parties to ensure that both people have equal time on the giving and receiving end of the other's adoration. This will be a great way to build each other's self-esteem and their confidence as a couple.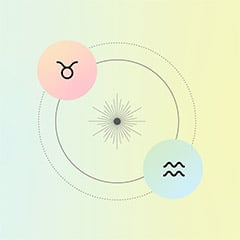 Love CompatibilityZodiac love compatibility is complex...
Find out whether you and your partner are a perfect match!

During the natural course of any relationship, someone will have to lead, and the other will have to follow. As a cardinal air sign, this will likely fall on Libra to assume a position of authority. This may not initially be comfortable for the sign of the Scales, whose solar expression needs a little work in terms of being embodied as an individual. This is where Virgo, a sign ruled by the Hermit in Tarot, can show Libra that being alone with your thoughts and figuring things out on your own is a reward unto itself. And through partnering with Libra, Virgo can learn how to be more optimistic about others and their intentions. Virgos may even learn to relax! When they both see that someone else wants them to put their own interests first, it prompts both to self-prioritize and self-actualize. This blended energy creates mutual satisfaction, and conversely, strengthens their bond.

Because of the mutually received reciprocity between these two, after working through some initial awkward kinks, these two can feel safe in being vulnerable and intimate with each other. This can easily lead to a very kinky love affair!
Speak to a live horoscope expert. Find clarity, connection, and a path forward. Click here and get your first reading for just $1.99!