December 2022 - The month of December brings you together with the right people. The full moon in Gemini conjoins Mars on December 7. Capricorn, you're pulling together a great team. You're figuring out what people are good at and how to bring out their best work. You are honing your leadership skills. This is a dividend that can pay off in the future.

Jupiter enters the sign of Aries on the twentieth, and Capricorn, you might start a business with a family member or pool resources with family members to make an important investment. Now everyone seems to be getting along and working toward a shared goal. And this positive energy continues until mid-May 2023.

There is a new moon in Capricorn on December 23. Capricorn, this is your new moon, which signals the beginning of your new twelve-month cycle. Now you have three months of seed planting time in which you want to do a lot of new things, meet new people and try out your big business ideas.

Mercury goes retrograde in Capricorn on the twenty-ninth, and things from the past are pulling on you. You can't start new projects without finishing up some old stuff. This could include taxes from past years and other paperwork.
Get to your authentic self with the guidance of a psychic advisor. Click here to get the 1st 3 minutes of your reading free!
More Horoscopes for Capricorn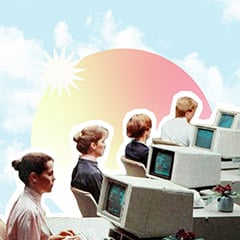 Personalized Career Horoscope