Love Compatibility
Find out if your partnership will go all the way. Some Sun Signs naturally work well together, but others need to compromise to make it work!
Capricorn
Sagittarius
6/10
When Sagittarius and Capricorn get together, there can be sparks—or not! These two don't usually hit it off right away because of their very different personalities, but if there's some initial attraction, they might stick around to see what the other person is all about. It's only then, when they explore things on a deeper level, that they find they have some things in common and can form a strong bond. At first glance, Sagittarius might see Capricorn as a buzz kill. Often a workaholic, Capricorn puts their nose to the grindstone, while Sagittarius loves to play. Sagittarius won't understand that Capricorns often think of work as fun. Once Capricorn lets their guard down, however, and allows Sagittarius to show them how fun life can be, they get into it pretty easily. Capricorns credit their Sagittarius partners for helping them lighten up and might be forever grateful to them for it. Sagittarius, on the other hand, can learn a lot from Capricorn's strong work ethic, and will often credit their Sea-Goat partners for helping them get their act together. This "opposites attract" bond is strong and can be mutually beneficial.

Sagittarius is ruled by expansive Jupiter, which encourages Archers to get out into the world and expand their horizons. They often believe in a strong sense of destiny, and have lucky things happen to them quite a lot. Do they have a positive attitude because good things happen to them, or do good things happen to them because of their positive attitude? Capricorn, on the other hand, is ruled by hardworking Saturn, and believes that the harder you work, the more rewards will come your way. They don't usually have a strong sense of destiny because they believe they make their own luck. Sagittarius admires Capricorn for their ambition, but they can't identify with it. Capricorn is amazed (and somewhat jealous) of how easily things come to Sagittarius, but they can't imagine leaving their success—or lack thereof—to fate.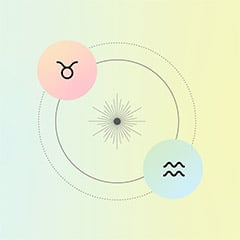 Love CompatibilityZodiac love compatibility is complex...
Find out whether you and your partner are a perfect match!

Sagittarius is a fire sign and acts on impulse way more than stable Capricorn is comfortable with. Fire signs are excitable and spontaneous, which is pretty much the exact opposite of earth sign Capricorn. Fire signs love to explore and adapt as they go, and earth signs base their knowledge in logic and practicality. They usually stick with the beliefs and ideals adopted when they are young. These basic differences can cause conflict—especially when it comes to building a future together. Sagittarius wants to play it by ear while Capricorn has the next twenty years planned out. It will take a lot of compromise to make both partners happy in regard to important issues.

Sagittarius is a mutable sign, which means they aren't leaders or initiators. They're happy to go with the flow and play a supporting role. And guess what? Capricorn is a "take charge" cardinal sign, so they're ready, willing, and able to step up in this relationship. Once the Sea-Goat gets things started, their Sagittarius partner is usually ready to jump on board with the plan (so as long as it isn't too restrictive). 

Romantically, there are some differences to overcome. Capricorn isn't ready for something as physical as Sagittarius, but if Sagittarius can be patient until trust is built, they can have some pretty passionate experiences. This sign is more adventurous, but Capricorn will want to initiate (and sometimes dominate) their bedroom time—which Sagittarius won't mind at all.
Ready to talk to an expert? Get a FREE session with a professional Astrologer.