Your October 2019 Horoscope: Scorpio's About to Make Halloween Extra Weird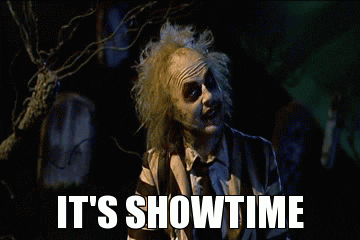 After the Libra new moon in late September, we enter October coming from a place of balance and harmony. But of course, with Libra's harmony, comes a level of necessary upheaval—and turning points—before we find equilibrium.
It also doesn't help that Scorpio's transformative energy is going to be taking over—particularly on Halloween, when Mercury turns retrograde in the occult-loving water sign.
On October 3, Pluto (planet of transformation) stations direct after turning retrograde in April. This brings powerful developments and revelations, changing the shape and structure of our life.
As Mercury (planet of communication) in Scorpio enters its pre-retrograde shadow in early October, you might want to get your Mercury retrograde survival kit ready. We'll see Mercury truly turn retrograde on October 31 (Halloween!) until November 20. You'll need to be versatile in order to understand the transformative message here.
Read Me: Everything You Need to Know About Mercury Retrograde
As we move mid-month, the energy builds with a potent Aries full moon on October 13. With the moon in Aries (the sign that represents the self) in opposition to the sun in Libra, (the sign of relationships) and current aspects, there's a need for balance in personal needs between partners in relationships. This will call for detachment.
Full moons mark endings and culminations. But every end is a new beginning—this lunation clashes with Pluto and connects harmoniously with Jupiter (planet of luck) suggesting breakthroughs opening new pathways to greater freedom and stability.
On October 23, we welcome Scorpio season: the four-week period that deeply roots in emotional release and transformation. Not all the upcoming changes will be easy or pleasant, but the only way out is through.
Read Me: The Best Halloween Costume for Your Zodiac Sign
As the month ends, on October 27, a Scorpio new moon ushers in a powerful new beginning—particularly in the process of resurrection. Additionally, Mercury slows down to a halt and stations retrograde on October 31—suggesting that surfacing information could change everything. (A few Halloween rituals can help you reconnect.) But if you let go of perceptions, you can reveal a deeper, sweeter truth.
Your Zodiac Sign's October 2019 Horoscope
Photo courtesy of @dorianlegret
Aries
Your energetic and bold Aries energy fits in perfectly with October's transformative and moving tone. Letting go of old patterns or thought processes is the key this month, and the best place to start is during the full moon in your sign. While things could get emotional around this time, know that whatever information is unfolding is meant to help you in your decisions moving forward. As we enter Scorpio season, you'll be asked to reconsider a relationship or financial situation. Don't be afraid to go deep.
Read your full Aries monthly horoscope.
Taurus
For you, Taurus, October brings a sense of balance to your everyday routines. It's time to organize yourself so you're changing those routines for the better, but you're not feeling overwhelmed. It's best to coordinate with others during this time to help you in that process. During the Aries full moon, you might want to try taking time out of your days to self-reflect; you may be surprised at what emotions you'll find brewing underneath. Your main goal during Scorpio season will be to open up to a romantic partner—they have something to share with you.
Read your full Taurus monthly horoscope.
Gemini
You're trying to pull yourself together this month, Gemini. But where do you start? The Aries full moon makes a very clear case for attention on a friendship or relationship. There is a lot of opportunity there, so go for it! Because there are many things happening over the weeks in October, you may feel pulled slightly to please others. Make sure this month is about you, and you only. The Scorpio new moon—and the coming four weeks of Scorpio season—will urge you to continue revolutionizing your world. Don't be afraid to wipe your slate clean and start over. That's what this season is for!
Read your full Gemini monthly horoscope.
Cancer
This month a fair amount of your attention will be re-routed toward family matters. Is there something from your past that still weighs heavily? This is the month to address those lingering issues. The Aries full moon may bring a professional conflict to light—one that you may have trouble answering with subdued behavior. You know you can take things to an unnecessary level Cancer, so think before you speak and avoid passive aggressive actions. Nothing good will come of it! Lastly, the Scorpio new moon will show you something you never even knew you wanted.
Read your full Cancer monthly horoscope.
Leo
With some attention on your communication styles this month, you may be extra persuasive this month. Use it to your advantage as it comes to career and domestic discussions. As you lead up to the Aries full moon, remember that in order to grow, we have to come back to those sensitive times. For you, Leo, Scorpio season is going to highlight home life and domestic relationships. It's time to think about what you need in your space in order to feel secure.
Read your full Leo monthly horoscope.
Virgo
Finances and emotions are a big theme this month, Virgo. After months of feeling a bit out of control (your favorite), the Aries full moon is bestowing you with some much needed opportunities to get yourself back on track. In terms of partnerships, it looks like there may be some destructive behavior going on between you two. Is this a toxic relationship that needs breaking? Communication continues to be a theme as you enter Scorpio season. Some new information could hold the secret to a story you haven't been able to figure out.
Read your full Virgo monthly horoscope.
Libra
Happy birthday! As you approach the full moon, you may start to feel that one relationship isn't going as deep as it should. But the answer here is about deepening the relationship you have with yourself first. Embracing honest conversations here is the best way to clear the air and get what you want out of this evolving energy. Mercury retrograde will challenge you to re-evaluate your commitments with others, so be ready to get real.
Read your full Libra monthly horoscope.
Scorpio
We're heading toward your season, Scorpio! As we do, the last couple months of Libra season will be extremely self-reflective for you. You'll enjoy digging into the greatest depths of yourself, but remember that this is about transformation, too. You'll have to make some changes this month. For instance, the full moon mid-month is asking you to take look at your health routine—easy enough. But it's Mercury retrograde in your sign that will encourage you to do some deep self-evaluation. That's when the real work begins.
Read your full Scorpio monthly horoscope.
Sagittarius
For you, Sagittarius, the full moon is urging your most secret, romantic desires to come forward. In order to get what you want there, make sure you're also recognizing what you need from yourself; deepen that relationship and the rest will follow. Overall, 2019 has been a year of growth for you. These next couple weeks will be integral to completing that transformative process.
Read your full Sagittarius monthly horoscope.
Capricorn
As you near October 23, you could start to reconnect with some childhood dreams. This is exciting, but scary. Do you have what it takes? Trust that you do, Capricorn. In general, October is a perfect month to socialize (even if you don't want to). You never know who you could meet, and the stars suggest that someone special might be on the horizon. Hint: The opportunity to network is particularly strong around the new moon on October 27!
Read your full Capricorn monthly horoscope.
Aquarius
This month you could be presented with an exciting crossroads that gives you tons of freedom to choose what you want. As you decide Aquarius, make sure you're focused on the bigger picture. (You have great chances for success here, but as you move forward, you'll want to keep close with the people who have helped you get there.) Lastly, Mercury retrograde could reveal interesting information that will give you reason to backtrack a little bit.
Read your full Aquarius monthly horoscope.
Pisces
For you, Pisces, October is challenging you to step down from power in a financial situation. Try not to consider this a step back; it's helping you get to where you desire faster than you think. The Aries full moon will also ask you to let go of control. And once the Scorpio new moon hits, you'll feel as free as a bird. In general, you'll want to keep to your values but also trust that things work out as they should.
Read your full Pisces monthly horoscope.
Lead photo courtesy of Giphy